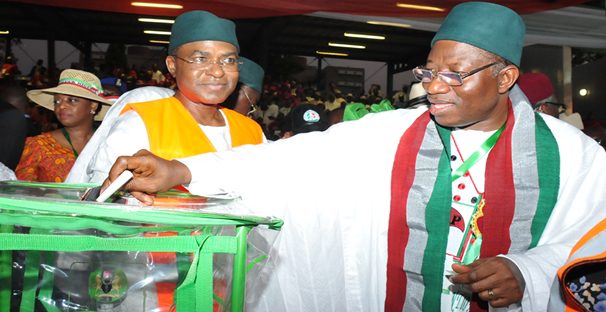 Former President Goodluck Jonathan on Saturday in Abuja announced that the Peoples Democratic Party had returned from limbo and would reclaim power in 2019.
Jonathan asserted this in his address at the party's special national convention.
He said that the party's achievements while in power would rekindle the confidence of the electorate to vote it back in power in the 2019 general elections.
"The party is indeed back to reclaim its prime position as the party to lead Nigeria to greatness.
"As a human institution, we cannot claim to be perfect and as a political party, our accomplishments up to 2015 are clear for every Nigerian to see,'' he said.
According to Jonathan, the< achievements of the party while in power are ample evidence to demonstrate that PDP is a party of vision and accomplishments.
Highlighting achievements of the party, he said that elections conducted from 2011 by the government controlled by PDP met globally-accepted standard.
Read also: Atiku Advocates 'Feed and Read" Programme To Help Nigeria's Out of School Kids
"We succeeded in doing that because of the leverage and the autonomy we gave to the Independent National Electoral Commission (INEC).
"PDP is a party that wants to place Nigeria in a position to compete favourably with other countries,'' he said.
On the economy, the former president said that PDP provided focused leadership through institutional and sectoral reforms which impacted positively on the country, especially in the last four years of our tenure.
"We tamed inflation at a single digit, maintained price stability, and drove the economy to become the largest in Africa.
"We also made Nigeria to be the number one foreign direct investment destination in the continent,'' he said.