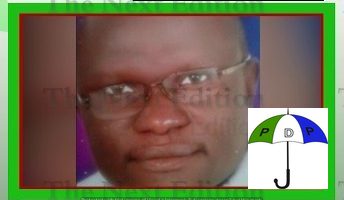 The Peoples Democratic Party, PDP, has called for an investigation into the killing of the Publicity Secretary of its Adamawa State Chapter, Mr. Sam Zadock.
The call was made on Wednesday in a statement issued by the National Publicity Secretary of the PDP, Mr. Kola Ologbondiyan.
"While we appreciate the efforts of the military in its response leading to the arrest of some persons, we reject any attempt to wave off this killing without an exhaustive investigation by relevant security agencies and the report must be made public," the party said.
The PDP said it was appalled by the daily killings in the country.
The statement reads in part:  "The PDP is particularly appalled by the fact that our nation is failing by the day following the inability of the incompetent APC-led Federal Government to ensure a peaceful Nigeria and to provide adequate security for our citizens.
"On daily basis, the nation is inundated by news of gruesome killings and unabating violence across the country, with Nigerians being hacked down or abducted by marauders and insurgents under the inept APC government which has failed to take decisive steps to stem the ugly tide.
READ ALSO: Gunmen kill PDP chieftain, Zadock
"Gradually, our nation is being turned into a funeral parlour with bloodletting in Benue, Taraba, Adamawa, Yobe, Kaduna, Zamfara, Enugu, Kogi, Ebonyi, Edo, Plateau, Nassarawa and other states across the country.
"Indeed, we cannot continue to lose our fine, bright and talented citizens to bandits while those vested with the mandate to protect them are more interested in their ill-lucked 2019 re-election.
"The national leadership of our party therefore demands an urgent action by the Buhari-led Federal Government to restore peace and end the violence in the land, even as we urge the security agencies to ensure a thorough investigation into the killing of Sam Zadock.
"Finally, we call on all our members in Adamawa State and across the country to remain calm as the leadership of the party at the highest level continues to engage the security agencies until we get to the root of the matter."