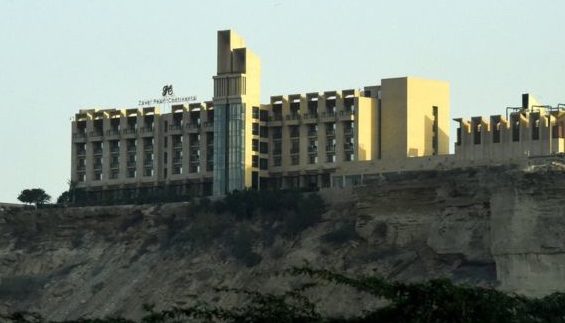 Three gunmen who stormed a five-star hotel in the restive Pakistani province of Balochistan, killing at least one guard, have been shot dead by security forces, officials say.
The attack and subsequent siege, which targeted the Zaver Pearl-Continental Hotel in the strategic port city of Gwadar, lasted several hours.
A hotel spokesman said there were no guests and few staff due to Ramadan.
The separatist Balochistan Liberation Army said it carried out the attack.
The group said that the hotel, the centrepiece of a multi-billion-dollar Chinese project, was selected in order to target Chinese and other investors.
READ ALSO: Gunmen Kill Female Journalist
Militants in Balochistan oppose Chinese investment, saying it is of little benefit to local people.
The gunmen stormed the hotel, usually popular with top government officials and foreign visitors, at around 16:50 local time (11:50 GMT), killing at least one security guard who tried to stop them at the entrance.
Security forces entered the hotel and took part in a gun battle with the militants, before cornering them in a staircase leading to the top floor, officials said.
Due to the Muslim holy month of Ramadan, the hotel had no guests and a very limited number of staff, a Zaver Pearl-Continental spokesperson told the BBC.
However, earlier reports suggested that hotel guests had been evacuated safely.
BBC