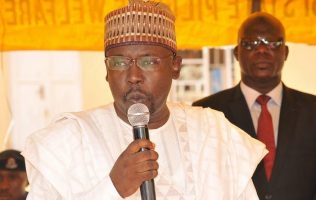 The National Emergency Management Agency (NEMA) said it had distributed 400 trucks of assorted foodstuff to Internally Displaced Persons (IDPs) in the North-East.
The Director-General of the agency, Alhaji Mustafa Maihaja, made the disclosure while inspecting food distribution exercise to IDPs in Maiduguri.
Maihaja said that the Federal Government had approved 1, 031 trucks of assorted foodstuff for distribution to displaced persons in the North-East.
"We have so far distributed 400 trucks of food items to persons displaced by the insurgency.

"The exercise is going on at IDPs camps and host communities. It is a routine exercise being conducted on monthly basis.

"The past exercise was conducted in June and now the July round is ongoing in all the affected areas.

"We are providing 50 kilogrammes of food items per household, which is higher than the ratio offer to the IDPs by donor agencies," he said.
Maihaja said that the agency had adopted proactive measures to guard against diversion and improve the well being of the IDPs.
He added that the agency had evolved modalities to ensure effective monitoring of the exercise.
The News Agency of Nigeria (NAN) reports that members of the presidential committee on the North-East Initiative had inspected the food distribution exercise at Teacher's House and Bakassi IDPs camps in Maiduguri.
The committee had earlier held a close door meeting with Gov. Kashim Shettima at the Government House.