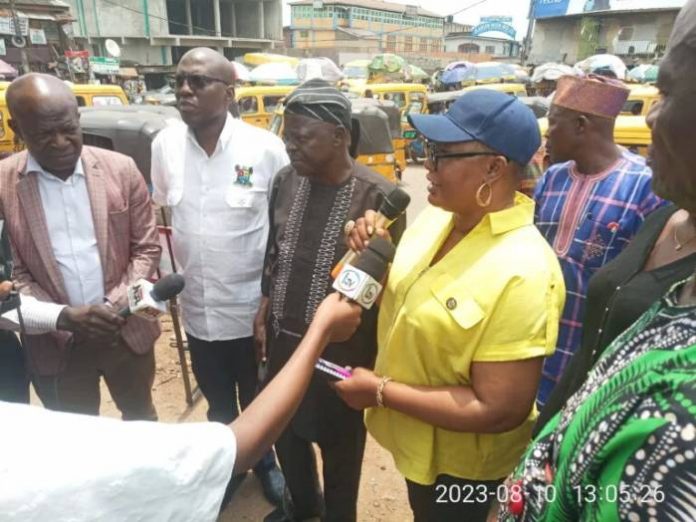 The Lagos State Government has expressed dissatisfaction with partial compliance by commercial transporters (yellow buses), on their promise to reduce fares across board.
The Director, Transport Operations, Ministry of Transportation, Mr. Olasukanmi Ojowuro, said this during an inspection visit to Parks and Garages in Lagos on Thursday.
The News Agency of Nigeria (NAN) reports that the Ministry of Transportation team, with the media, visited Agege, Iyana-Ipaja, and Ikeja areas of Lagos.
Ojowuro, addressing the union and commuters, said they came to monitor their compliance level with the promise to reduction transport fares across board.
He said that transportation was key to the development of any society.
"We visited seven units in Agege, while five units complied, and we have informed the uncompliant units to do the needful because we have officials who will be monitoring them.
"We all know the situation in the country now, and government wants to stabilise the economy, that is why we came to find out the level of compliance by the commercial operators.
"The commercial buses union had pledged to reduce their fares by 25 per cent across board after the meeting with Mr. Governor before the implementation.
"We discovered that the union had also reduced the daily ticketing to N600 from N800.
"We need your cooperation and we want to find out if you are complying with the directive," Ojowuro said.
He urged transport union to always comply with safety standards and avoid parking indiscriminately, which could add to traffic on the road.
At Ikeja, Ojowuro commended the compliance level of the transport union and  pleaded with them to support with the reduction in some of the parks where it had yet to be implemented.
He commended compliance level at Iyana-Ipaja saying that they had reduced fare from Iyana-Ipaja to  Abesan  area of Lagos by 50 per cent.
The Director Administration and Human Resources, Ministry of Transportation, Mr. Lawal Akapo, begged the commercial buses union to comply.
Akapo said that if the transport fare was reasonable, many passengers would benefit from the  transportation system and it would help  government to achieve its relief intervention.
He explained to the transporters that Gov. Sanwo-Olu had always respected and appreciated them for their interaction and movement of goods and services from one point to another.
Akapo advised them to always drive with number plate, sticker and follow other regulatory standards to reduce accidents to the barest minimum.
The Director, Public Transport and Commuter Services, Mr. Adebayo Olusoji, appealed to commuters and transport union to always do the right thing.
Olusoji appealed to the transporters to always drive with number plate and comply with government transport regulations.
Iyabo Akeju, Chairman, Alausa route in Agege, said they had reduced state government ticket to N600 following government directive, while they had also reduced their daily ticket to N200 from the initial N400.
"Before now, passengers usually paid N200 and they were sitting four on a row, but the passengers complained that they preferred to sit three on a row and pay N300 per person," Akeju said.
A driver, Mr. Ikechukuw Mba, it was so expensive to maintain vehicles lately, as  spare parts were on the high side.
"The vehicle insurance was N7,500 before the subsidy removal and now it has increased to N20,000," he said.
At Iyana-Ipaja, Mr. Nosiru Disu, Chairman, Branch U, inter State Transportation, said they were collecting N3,000 from Iyana-Ipaja to Ijehu, and they had reduced it to N2,500, and same was applicable to Ibadan trip.
"We are begging LASTMA and police to intervene in reducing traffic congestion at Iyana-Ipaja area of Lagos.
 "We have reduced the transport fare from Iyana-Ipaja to Berger which was N600 after subsidy removal to N400," Disu said.
He said that their park was complying with the directive on transportation reduction.
The Chairman,  Ikeja Branch A, Sulaimon Elegbeda, said they had reduced the ticket from N800 to N600 adding that they had also reduced fares across board.
The organising Secretary,  Ishaga unit, Mr. Hakeem Egberonbi, said they did not increase their fare, and collect, Ikeja to Ishaga, N400 and N500 at night.
Oluwasegun John, Secretary, Oba Akran unit, Lagos State Park and Garages Brach B, said the subsidy removal actually affected the income of the drivers.
He said they complied after discovering the  government efforts.
"Our Branch Chairman, Mr. Biodun Ariyo, has compelled us to reduce the cost on transportation across board and the transport management has reduced their fares across board."
The Unit Chairman, Ikeja Alausa, Mr. Samsideen Babajide, said they had not increased their fare before and after the subsidy removal.
"Before now, we were collecting N1,500 for booking, loading and  the Lagos State ticket, after the directive, we have reduced it to N1,000 — N600 for government ticket while the remaining N400 is for booking and loading."
Recall that Gov. Babajide Sanwo-Olu had on Monday announced that the state was effecting a 50 per cent slash on fares on the BRT buses with effect from Aug. 2.
The move was to reduce the hardship faced by commuters in the aftermath of the removal of petrol subsidy.
Sanwo-Olu  had also said the yellow buses privately owned had also promised 25 per cent reduction on  their fares from the same date.(NAN).
A cross section  of the Lagos State Ministry of Transportation, staff and transporters at Iyana-Ipaja during the inspection exercise in Lagos on Thursday.