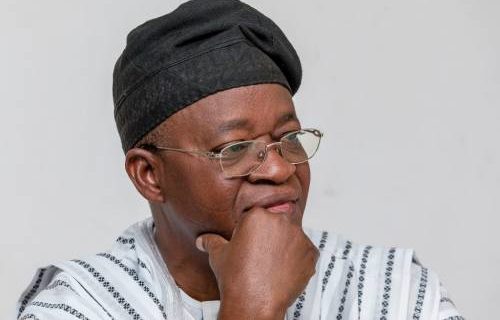 The candidate of the All Progressives Congress, APC, in the Osun State governorship election, Gboyega Isiaka Oyetola has been declared the winner.
He will succeed Rauf Aregbesola as the next governor on November 27, 2018.
He defeated his closest opponent, Ademola Adeleke of the Peoples Democratic Party, PDP, in the re-run which came up on Thursday.
The declaration of Oyetola as the winner was made by the chief returning officer, Professor Joseph Adeola Fuwape, at about 1.00 a.m. on Friday.
Polling a total of 255,505 votes, Oyetola defeated the candidate of the Peoples Democratic Party, PDP, Ademola Adeleke, in the election.
Adeleke polled 255,023 votes.
The difference is 482 votes.
On September 22, the governorship election was held in-Osun State but went into a re-run.
According to INEC, there were irregularities in some areas.
The affected areas are Ife North, Ife South, Orolu and Osogbo local government areas.
However, during the re-run, Oyetola recorded overwhelming victory, cancelling the 353 votes Adeleke led with at the initial stage.
Born at Iragbiji in Boripe local government area of  Osun State on 29 September 1954, Oyetola attended Ifeoluwa Grammar School in Osogbo for his secondary school education which he completed in 1972
Married with children, he read Insurance at the University of Lagos and has an MBA Finance in 1990.
He is also an Associate of the Chartered Insurance Institute, London and Nigeria and a Member of the Nigerian Institute of Management.
READ ALSO: Osun guber re-run not free, fair or peaceful – observers
After working in Leadway Insurance and Crusade Insurance, he founded Silvertrust Insurance Brokers in 1990.
He was the Executive Vice Chairman of Paragon Group of Companies with interest in Oil and Gas, Real Estate, Stock Broking  until he became the Chief of Staff to the Governor of Osun State, Rauf Aregbesola.
Below is summary of the results of the election:
Registered Voters: 1,678,985
Accredited voters: 775687
Valid Votes : 721,621
Rejected votes: 47874
Total votes cast: 769495
Adeoti of ADP: 49,743 votes
Adeleke of PDP: 255,023
Oyetola of APC: 255,505
Omisore of SDP: 128,053