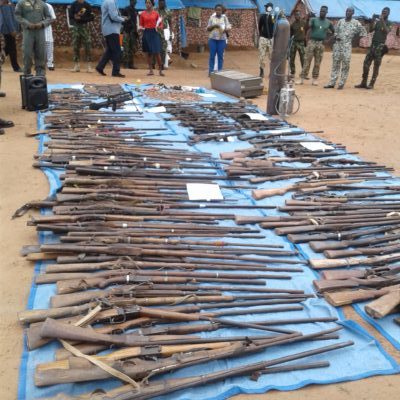 The Force Commander, Operation Whirl Stroke, OPWS, Major General Adeyemi Yekini, on Monday, said troops recovered 178 assorted light weapons and 3,569 ammunitions from bandits in the last one year.
Major Gen. Yekini stated this at a press briefing to mark the first year anniversary of OPWS in its operation areas of Benue, Nasarawa and Taraba states.
He said the feat was achieved through a deliberate mopping up of small arms and light weapons used by the militia to terrorize the people.
Yekini said, "A total of 178 assorted weapons and 3,569 ammunitions of different calibre were recovered by OPWS from bandits in the last one year.
Giving a breakdown, the Force Commander stated that 41 weapons and 1,293 ammunitions were recovered in Benue, 127 weapons and 2,235 ammunitions in Nasarawa and 10 weapons and 41 ammunitions were recovered in Taraba State.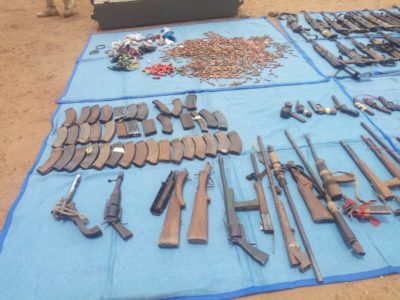 He also highlighted other achievements to include the arrest of 171 militia elements including armed herdsmen and criminals linked to Gana.
He stated that the trooops neutralized over 140 bandits in the three states, returned over 250,000 lDPs; 215,000 in Benue; 30,000 in Taraba and 5,000 in Nasarawa states, while 38 identified militia camps were destroyed across the Joint Operation Areas, JOA.
READ ALSO: My Administration's Policies, Decisions Taken in Best Interest of People — Ambode
"Gana's associates including his wife, spiritual leader and close confidants were neutralized while Gana has fled out of his so called areas of influence in Katsina Ala."
He said the Operation recorded peaceful resolution of protracted conflicts among the five ethnic groups in Lau; the Tivs and Fulanis in Wukari LGAs of Taraba State, Shitile and Ukum clans in Katsina Ala, Ukum and Logo LGAs of Benue State as well as between Tivs and Fulani ethnic groups in Keana and Awe LGAs of Nasarawa State.
Major Gen. Yekini also noted that the same peaceful engagements are already yielding efforts in the age long crisis between the Bassa and Ebira ethnic groups in Toto LGA of Nasarawa State.
He said there was also increased farming and commercial activities, significant reduction in cases of violent crimes and restoration of public confidence in Federal Government's ability to tackle the security situation in Benue, Nasarawa and Taraba States.
Yekini, therefore, thanked the Federal Government, Governors of the three states, Local Government Chairmen and the media for the direction and tremendous support to attain the successes recorded by troops in the states.
He further solicited for even more support to enable them consolidate on the gains so far recorded saying, "The OPWS will continue to do its best to fully restore peace and stability in the JOA."
The OPWS is an intervention force made up of Special Forces from the Armed Forces of Nigeria, Nigeria Police, NSCDC and DSS.
The force was deployed in May 2018 to assist traditional units, formations and security agencies restore normalcy in the wake of violent clashes between herdsmen and framers as well as other forms of violence in Benue, Nasarawa and Taraba States.