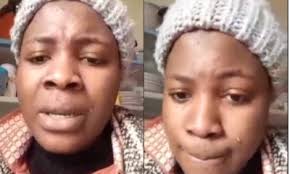 A young Nigerian lady, Omolola Ajayi, who was trafficked to Lebanon under the pretext that she was going to teach English, has regained her freedom.
She was handed over to the Nigerian Ambassador in Beirut on Monday.
The Chairman, Nigerians in Diaspora Commission, Mrs. Abike Dabiri-Erewa disclosed this via her official Twitter page on Monday.
She said the lady was warmly received by Nigeria's Ambassador in Beirut, Goni Zanna Bura and that she was happy to be in safe hands.
She further stated that the lady would soon be home.
READ ALSO: Kidnap: Police Apprehend Wanted Suspect In Delta
Recall that Omolola Ajayi had a few days ago, cried out for help in a viral video, claiming that she was allegedly sold into slavery in Lebanon.
She disclosed that her parents, Mr. Kehinde Ajayi and Mrs. Felicia Ajayi resided at Offa Garage at Under Bridge in Ilorin, Kwara State and alleged that a family friend tricked her into situation.
Omolola, said she thought she was going to Lebanon to teach English but, discovered on arrival that she had been deceived.
She further disclosed that some victims of the same scam were already dead as they were not taken to the hospital when they fell sick by their "masters" who seized their passport upon arriving in the country.