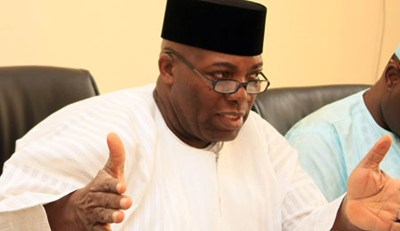 The depletion in the Peoples Democratic Party, PDP, increased at the weekend with one of its chieftain, Doyin Okupe, former spokesperson to ex-president, Dr. Goodluck Jonathan, announcing his resignation.
Okupe hinged his decision on the leadership crisis rocking the party.
He also added that political parties had lost their importance and identities because of nepotism.
His statement reads in part:  "It is with deep regret that I publicly announce my resignation from the Peoples Democratic Party.
"It has to be public because the PDP no longer exists in my ward as a single unified party; it was when I joined it.
"Today, political parties have lost their importance and identities. Once the candidate is Northern, his party is immaterial, all northerners irrespective of their professed party affiliation will vote for him.
"This is the major reason why there has been a total absence of opposition in the country in the last two years, and may probably be responsible for the polarisation and sharp ethnic divisions we are currently witnessing in the country.
"In the east, there is intense anger and loud call for secession, in the south-south, there is absolute indignation and very resolute demand for total control of their resources, while the south-west is bellicose and hell bent on true federalism and restructuring which many prominent Northerners openly oppose for good or for bad.
"Under these circumstances, political parties have lost their flavour and relevance. Certainly, a party like my former party, PDP has no future in the evolving Nigerian political circus."
The statement reads further:  "The situation in the country may in the nearest future require that mature men of goodwill standby to play a unifying role for political stability of the country. My membership of PDP may directly or indirectly preclude me from gratifying such noble and patriotic desire.

"Undeniably, I have been one of the major beneficiaries (not financially) of the PDP. But for a fact, the PDP and the APC are political platforms that have now expired or in the process of being so.

"Therefore, no matter my commitment and passion for this great party, the PDP, it has become menopausal and can no longer bear fruits. I have therefore decided to withdraw a bit and study the political situation more critically and thereafter take a decision soonest on my next political move.

"I will miss my friends, associates and co-travellers on this tortuous political journey and adventure. However, it is also still possible that our paths cross in the nearest future, which will be a delight."