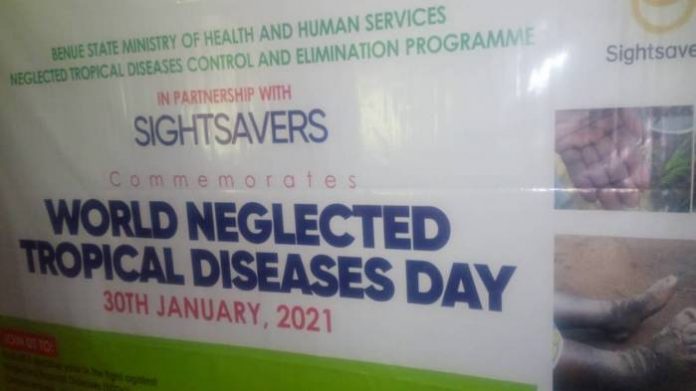 As the World commemorates the World Neglected Tropical Disease Day, Commissioner of Health and Human Services in Benue state, Dr. Joseph Ngbea, has called for concerted partnership in the fight against the diseases.
According to him, over 20 neglected diseases have infected about 1.6 million people all over the world.
Dr. Ngbea disclosed this on Friday, in Makurdi while briefing journalists, an event, organized by the  Ministry of Health through its Neglected Tropical Diseases Control and Elimination Programme, in partnership with Sightsavers, to commemorate the World Neglected Tropical Disease Day, 2021.
30th of January is set aside by the World Health Organization, (WHO), yearly to mark the world neglected tropical diseases day across the world, to celebrate the achievements made towards control of NTDs and also recognize the daunting challenges faced in the control and elimination of the conditions.
Speaking, the Commissioner of explained that the neglected diseases are group of communicable bacteria and fungi infections that affect the poor and marginalized population in the rural and urban areas.
He noted that 20 diseases being neglected affect over 149 countries with 1.6 million people infected all over the world.
READ ALSO: BREAKING: More Chibok Girls Escape From Boko Haram Den After About Seven Years In Captivity
Ngbea identified leprosy, snake bites venom, lymphatic filariasis which often leads to blindness, trachoma , onchocerciasis and soil transmitted helminths as major neglected diseases which have affected people all over the 23 local government areas of  Benue state.
The commissioner emphasized the need for creation of awareness to awaken the call for partnership from UNICEF and Sightsavers who have been of support but were cut short by the Covid-19 pandemic as well government intervention to enable treatment and prevention of these diseases.
He stressed that challenges of COVID-19, lack of incentives, poor documentation, shortage of drugs and finances are some factors mitigating against programme partners and called for concerted efforts in the fight against the diseases.
Speaking, Director of Public Health, Dr. Terna kur, harped on the need to stop the neglect saying government has provided nets and vector control as well as intervened in the provision of portable water.
Mr. Kur who named inadequate funding as a factor militating against efforts to curb the disease, however, stated that state government is making efforts in administration of mectizan.
He advised the people to imbibe good hygiene in order to eliminate the diseases.
Meanwhile, the National committee chairman on NTDs, Nigerian Medical Association, (NMA), Dr. Terkaa Bitto, noted that the World Health Organization has created three pillars including, accelerated problematic action, intensify cross cutting approaches that changes operating model and facilitating country ownership which are important to stop the tropical neglected diseases.
He expressed hope that the three pillars will help on control and stop the conditions of NTDs.