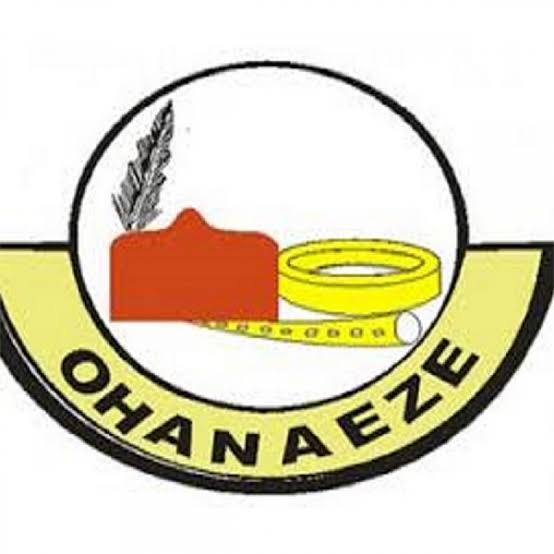 The Lagos State chapter of Ohanaeze Ndigbo has suspended some prominent members for allegedly trying to forcefully take over the leadership of the organisation in the state.
Those suspended include, Mr. Ruben Nwakor, a retired army colonel who until his suspension was its Ikorodu Central L.C.D.C. chairman; the Assistant Financial Secretary, Henry Nwanze; and the Chairman Kosofe Local Government Area, Ethelbert Okeke.
Other affected members include the acting state Secretary; Osita Nweke, Vice Chairman Mushin Local Government Area, Chidi Umunakwe and the acting state Public Relations Officer, among others.
Speaking after the disciplinary committee had finished its deliberations, the President of Lagos chapter of the organisation, Mr. Nnamdi Nwigwe, said that at this point in history, Ndigbo need unity and not distraction.
He said that with some eminent senior Nigeria citizens like former President Olusegun Obasanjo, Edwin Clark, Balarabe Musa among others joining in the clamour for a Nigerian President of Igbo extraction, Ndigbo themselves must not be spanner in the wheel of the project.
READ ALSO: 2023: Ohaneze Youth Canvass Support For Igbo Presidency
According to him, those who were suspended knew that there were processes to leadership.
"Chief Nwakor failed election in another faction of Ohanaeze Ndigbo here in Lagos. He came here begging and we accommodated him and made him the chairman of Ikorodu central LCDA.
But as it is said that a leopard can never change its skin colour, within a short time of accommodating him, he and some disgruntled elements began to plan against the leadership to the extent of saying that he has overthrown the leadership of Ohanaeze Ndigbo and announcing himself as the President, as if Ohanaeze is a military," Nwigwe said.
In his contribution, the chairman of the five-man disciplinary committee, Chukwukariri Emmanuel, said that Nwakor and his gang were suspended in accordance with the constitution of Ohanaeze Ndigbo.
According to him, the leadership of the current Ohanaeze Ndigbo under Nnamdi Nwigwe would not tolerate betrayers.
He said that they were determined to move the Igbo nation forward.
Ohanaeze Ndigbo is apex socio-cultural Igbo organisation in Nigeria.
Source: Sundiata Post