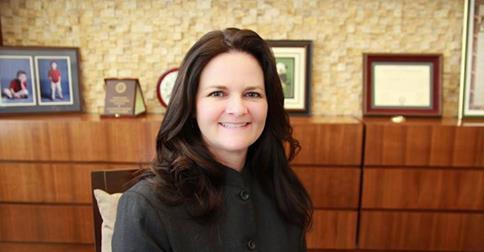 The American University of Nigeria (AUN), Yola, Adamawa State has appointed Dawn Delke, as its president with effect from July 1.
The university's Board of Trustees made the announcement in a statement signed by board Secretary, Idi Ali, on Friday.
The statement indicated that the new president emerged after an international search and was endorsed unanimously by the board to assume the leadership role for the university.
"We are delighted that Dr. Dekle has accepted our offer and will join our learning community. I am confident that she will take our university into the next phase of development," said Akin Kekere-Ekun, chairman of the board.
"Her vision for AUN in a global era resonated with the entire board and we welcome her with great enthusiasm and anticipation in the coming years."
Ms. Dekle visited the AUN campus during the May commencement weekend and met with members of the Board and the AUN Community.
"I believe AUN is the best-kept secret in Nigeria. The campus is buzzing with potential, and I was inspired by this new generation of talent, the engaged learning experiences, and community collaborations," she is quoted to have said afterwards.
Ms. Dekle is currently serving as president of Orkhon University in Mongolia.
But before joining Orkhon University, she was president of the American University of Iraq, provost at the American University of Afghanistan, and dean at the S P Jain School of Global Management in Singapore.
Prior to becoming a senior administrator, she was a faculty member at Singapore Management University, the National University of Singapore, James Madison University, and Dartmouth College.
Ms. Dekle has held leadership positions outside of academia, such as council member for the Singapore Institute of International Affairs and as leadership specialist and global knowledge manager at the consulting firm McKinsey & Co., where she helped launch the McKinsey Center for Asian Leadership.
As a scholar of psychology, law, leadership, and management, Ms. Dekle has published in academic journals, presented at international conferences, given keynote addresses for the Young Presidents Organization, and served as an analyst for television and radio regarding President Obama and his strategies in Asia and the Middle East.
The new president earned her bachelor's degree in psychology from Texas A&M University, Ph.D. in psychology from Dartmouth College, and J.D. in law from Stanford University.
"The AUN Board of Trustees invites everyone to welcome Dr. Dekle and join in the celebrations of her arrival to Yola this summer," a statement by the board indicated.
Former Vice President Atiku Abubakar established the AUN in 2003 to serve as Africa's pioneer development university.
However, the search for a new president started in February after the former President, Margie Ensign, resigned on what she termed, "personal reasons."
The former Provost, Le Gene Quesenberry, was appointed to act pending the appointment of a new president.