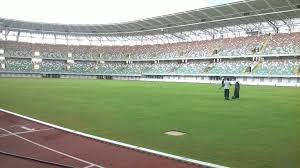 The atmosphere at the Godswill Akpabio International Stadium, Uyo Akwa Ibom state is electrified already with football fans all over the country converging for the Super Eagles/Bafana Bafana cracker kicking-off by

5pm

.
Majority of the football fans are optimistic that the Eagles would win the visiting Bafana Bafana South African side to redeem their glory two years ago.
The Fans who spoke with the Next Edition at the main bowl of the Next of Champion urged the Nigeria side to win the match to avenge their 2-2 draw with the South African which, denied them the ticket to the last edition of AFCON.
Emeka Samuel, a sport journalist in Uyo and member of SWAN, expressed confidence that the Eagles would carry the day given the quality of players in its fold.
He said, " I am confidence that Eagles will win this match today. I can bet with my money, The boys will not allow the South African team to deny them ticket again the second time by losing to them in the same pitch. Remember it was in this same stadium that the Eagles drew 2-2 with the Bafana Bafana.
He added that though the South Africans are strong, the Eagles would overpower them to boost their chances in the AFCON 2019 slated for Cameroon.
Corroborating his words Mike Etim, a correspondent with the Peoples Daily Newspaper said, "The Bafana Bafana are no match to the Super Eagles any where any time in terms of football, and records have shown the Super Eagles have triumphed over several time more than they have done in recent completions, so i am hopeful of good outing this evening" he said.
For Emma Ikora, a football fan in Uyo, victory is sure for the Super Eagles. He said, "i am sure of victory for the Super Eagles. The Eagles manager, Gernot Rohr is a competent hand who is not allowing anybody to influence his selection of players and i am confidence that he has selected the best for today's encounter," he said.
The Atmosphere here is calm and cool and everybody is looking forward to the match, which will kick-off in a couple.