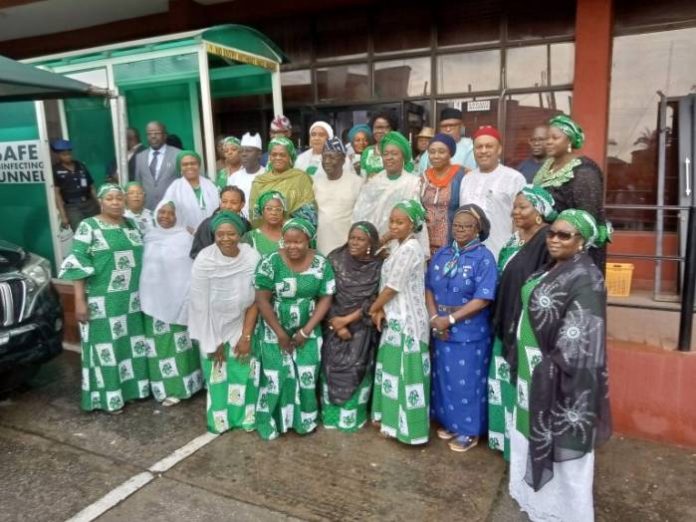 The National Council of Women Societies (NCWS) has called on political parties to restructure their policies to reflect gender balance.
Hajiya Lami Adamu Lau, the National President of NCWS said this when she led a delegation of NCWS national executives and other members to visit the People's Democratic Party National Chairman in Abuja.
Lau said that the visit was strategic since it came after the council's symposium with the theme, "Transition Politics: The challenges and prospects for Gender Inclusions in Nigeria."
She said the visit was part of the council's ongoing advocay to political parties to seek ways of working together to strengthen the country's democracy.
"A truly egalitarian nation is possible when we embrace our differences and give every Nigerian a sense of belonging, irrespective of gender and other mundane considerations," she said.
She called for the adoption of the tenets of true democratic principles as a guide to all party decisions and actions.
Lau said Nigerian women had continued to register poor representation in politics and leadership in spite of the huge numerical strength and various national, international legal instruments on gender inclusion and mainstreaming.
According to her, in the history of Nigeria's democratic rule, women have not attained up to 11per cent representation in both elective and appointive positions.
"Thus denying the huge population of capable and credible women with robust credentials and sound moral values the opportunity to contribute meaningfully to the economic development of our dear nation.
READ ALSO: Police Recover Guns From Fleeing Suspected Robbers In Lagos
"Political parties play very key roles in leadership selection in any democratic system.
"Our visit today is predicated on the need to collaborate with growth driven institutions, and visionary leadership, who share progressive ideals for true democracy, equity and social justice,'' she said.
Lau noted that the National Assembly recently rejected five gender bills, adding that these representatives were from various parties and their act was at variance to their party ideology.
"Women have continued to experience subtle discrimination, bias and stereotyping within the party leadership structures.
"None of the major parties live up to the recommendation of the 2008 Electoral Reform Committee of 20 per cent of women in governing boards of political parties," she said.
Lau said that this discrimination had kept women at the bottom level of the party hierarchy and outside of the circles where decisions were being made on candidate nomination and selection.
She said that PDP should be known for zero tolerance for all forms of violence against women in the political space as enshrined in her constitutions.
Responding, Sen. Iyorcha Ayu, the Chairman of PDP called for more women participation in politics, adding that this was the only way to get women involved in every level in politics.
"PDP has recognised women and we are also determined to push women forward.
"We hope to continue in the same spirit to encourage women, we will bring more women out to participate in the public affairs.(NAN)