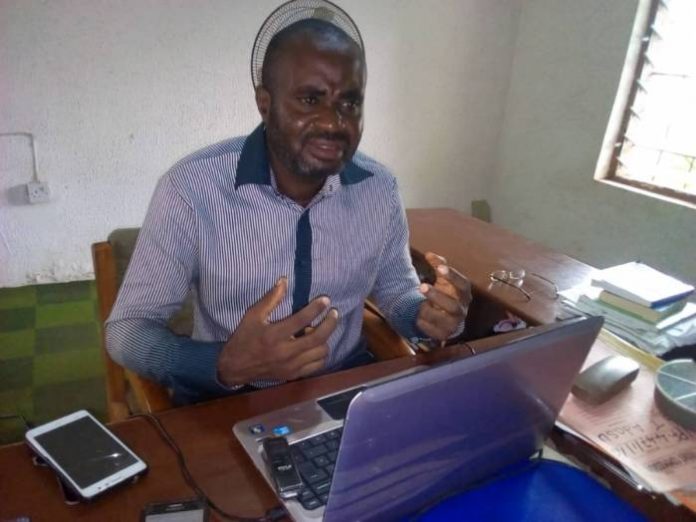 Thomas Mgbanngun is the State Coordinator of Nigerian Copyright Commission, NCC, Benue State Office. He also oversees Nasarawa and Taraba state offices. In this interview, he noted that copyright owners were dying in penury due to the activities of pirates while shading light on what the commission is doing to combat piracy.

TNE: Tell us a bit about Copyright Commission.
Nigerian Copyright Commission was established in 1989 under Decree 47 of 1988 but now that we are in a democratic dispensation, we no longer use Decrees. So it's now codified as Cap C28 of the laws of the Federation of Nigeria. The vision of the commission is to harness creativity for national development. We have some statutory mandate which includes to promote, protect creativity, regulate and to enforce copyright industry in Nigeria.
Copyright is the creation of the mind and creators have the right to benefit from their sweat. Over the years, we discovered that there are some criminal elements with intent to benefit illegally from the works or creations of others, so, this is where NCC comes in. The law regulating this industry is called Copyright Act. Section 1 of the copyright Act identified some areas that we regulate. These are areas like musical, the artistic, the literary, sound recording, cinematography and broadcasting. When we protect copyright, we don't protect real ideas or facts because everybody can use ideas. For instance, the Biafran Civil War, Elechi Amadi has written about it and many other people. So it is the expression, the fixation of those ideas that is protected.
Once you express those ideas, it is the uniqueness that is protected and once your copyright is infringed upon, we go after the person.
We have a scheme known as Notification scheme, we have a data base and we collect the works of people, for easy identification of who owns what anywhere in the world, and for proof of evidence of ownership if a case arises.
TNE: What has the Benue office been doing and how many cases of piracy have you handled?
We have done a lot. Basically, our work is to protect copyright and we do this by creating awareness among right owners and stakeholders and we carry out some anti-piracy activities; we go on surveillance, identify some copyright threats and then we go on raids.
We have made some arrests and some have been prosecuted and convicted while some are still being prosecuted.
The problem is that many people are ignorant of the copyright industry and many don't even know that they have the right to their works. The present management headed by Mr.John Asein has been doing a lot. We have been creating awareness even among the peasants, synergizing with other agencies that will help us.
TNE: Can you specify how many offenders your office has arrested and convicted?
We have done a lot since 1989 when the commission was established but I am new in office and will have to contact head office to give a comprehensive figure. But we have done a lot in that regard.
TNE: With the emergence of the internet, how have you been able to monitor activities of pirates in line with your responsibilities?
Well, that is one of the challenges we are facing. First, there is a lot of ignorance, people don't know how to use the internet. This is the reason why many pirates from other parts of the world see Africa as a black spot for piracy and criminal activities.
They know that we have weak legislations and Africa is considered as a dumping ground for counterfeit goods. The most popular one that is affecting us negatively now is the internet streaming piracy.
What we are doing now to contain this is training and retraining of staff, bringing in experts to train our people. Right now, there is an attempt to amend the copyright Act. If you look through the copyright Act, it did not include the digital aspect of intellectual property. So, there is a bill proposed to take care of that. When the act is passed into law, we will have an effective copyright Act that will take care of online or digital piracy.
We are also creating awareness and training people to know the use of devices and gadgets that are used to trace pirates online, some other countries are using it so we are trying to catch up. So, those pirates are still here because of the lacuna in the aspect of the law and knowledge but we are doing our best to catch up. We are not joking.
Somebody can make use of your books or other works, reproduce them cheaply online and make a lot of money and you won't know. So we are getting those devices that can identify those malicious websites with the aim of blocking or bringing them down. We are working hard to upgrade our staff to use them.
TNE: Apart from the challenge posed by the internet, what other challenges are the commission facing?
I might not be competent to speak on the issue of policy but just as I mentioned, we have weak legislation, ignorance, people don't know their rights. People don't know the dangers and risk they face in copyright infringements or piracy. When we go out for anti-piracy activities, I discovered that the Copyright Commission does not enjoy much public sympathy like agencies such as the National Agency for Food and Drug Administration and Control, NAFDAC.
When NAFDAC discovers a spot where there are counterfeit drugs and goes there to raid it, the public will cooperate and support them but for us, when we go on anti-piracy activities, people look at us as if we are going to destroy the livelihood of innocent people. This has been one of our major challenges. We all know that piracy is worse than armed robbery. It is very dangerous and it destroys.
Another challenge we face is that of ignorance. People are unaware of the negative impact piracy is having on our society. Copyright is a catalyst for economic and national development. We cannot deny that. As a specie of intellectual property, it contributes to the overall wealth of the nation. So we need to harness it. So many people go and borrow money to invest but at the end, they don't get anything from such investment because of the activities of pirates.
TNE: How do you identify cases of piracy?
There are two angles to it. Sometimes we receive complaints but we don't wait for complaints to come because we go on inspection and monitoring to identify what is happening, that is, identify the crime that has already taken place and anticipate the crime that is about to take place. We have a very wide reach; there's music, broadcast, cinematography, sound recording and artistic works. We can go to bookshop owners, schools, software sellers, hotels, radio and television stations, newspaper offices, eateries and other commercial areas depending on where we have signals that are not in conformity with what the copyright wants to happen.
TNE: In most Universities, hand-outs and photocopying of books without the consent of the owner, have been the practice, what is the Commission doing to control this?
We have some cases from academics. There are limitations which we term as fair use, that is, if you are making use of the book for academic purpose, for any emergency or national interest. It may be allowed if it is not for commercial purpose. But for this one too, there is a limit to it. A student cannot go and photocopy a whole book in the name of academic use. One chapter is allowed unless copyright has expired. Copyright has expiry date, some are 50 years and others are 70, after the death of the right owner. After the 50 years from the death of the owner, the book is taken back to the pool and anybody can make use of it. For instance, the works of Shakespare, are in the public domain and anyone can use them. The aim is to balance private and public interest so that people will be encouraged to do more. As we are protecting copyright, we want to also protect public interest. We want creativity to continue.
TNE: You said piracy is worse than robbery. But because of economic hardship, most students photocopy a book wholly, from front to back page for their academic work. Is that a crime?
It is a crime. Fair use allows you to photocopy some pages or a chapter from a book but when you go and photocopy a whole book, even your conscience should tell you that you are doing something wrong. We are trying to reach out to many stakeholders. I have directed my officers to write so that we visit the University. We are doing a lot of awareness, even in the primary and secondary schools. Our Director-General has sent the schools letters warning that if a student or a pupil in any of the schools is caught with a pirated book, such a school will be shut down completely. That is to tell you that we are no longer joking. In America, copyright industry is the second highest revenue generator for the government but here, our creators die in penury and the reason is not far-fetched. It is because of the activities of pirates. The system is not well regulated and that is the narrative we want to change, hence the theme of this year's celebration, "Changing the Copyright Narratives."
TNE: You mentioned that piracy is on the increase in the country, is there going to be any way out of this, at least to minimize piracy in the country?
Our focus is to eradicate piracy in Nigeria and not to minimize it. We are working on stringent laws and we are lobbying the National Assembly to ensure that the amendment is hastened up and the bills passed into law so that we have a robust copyright Act. When people understand that what they are doing has some kinds of repercussions, they will be very careful. In some other climes, if the law catches up with you, you are a goner but here in Africa, in Nigeria, we have weak legislation and that is the challenge. I think that a good piece of legislation is very important and to also have knowledgeable people that can detect the activities of those pirates on the net is also important.
TNE: You said the Commission will be celebrating 30 years of existence. What is it all about?
The Copyright Commission was established on August 19th, 1989 to be precise and on the 19th of this month, we are going to be celebrating our 30 years in existence. The purpose of the celebration is to take stock of the past, what we have done and to chart a course and see where we are going, to understand what we are doing and how best we are going to do it. The theme, like I have said is, "Changing the Copyright Narratives."
According to the DG, it is going to be a three-month activity. It will begin on the 19th which is a Monday and will feature stakeholders' interactive session, road walk, lectures, quiz and readings for students and children, presentations, media chats, VIP visits, among others, to help us synergize with them and create awareness to fight piracy.
The focus of the celebration is to create awareness about copyright and to continue to do it until we achieve our aims of eradicating piracy in Nigeria. We want a situation where you enjoy your rights fully and after your death, and your generation will enjoy it till the copyright elapses after you have died.