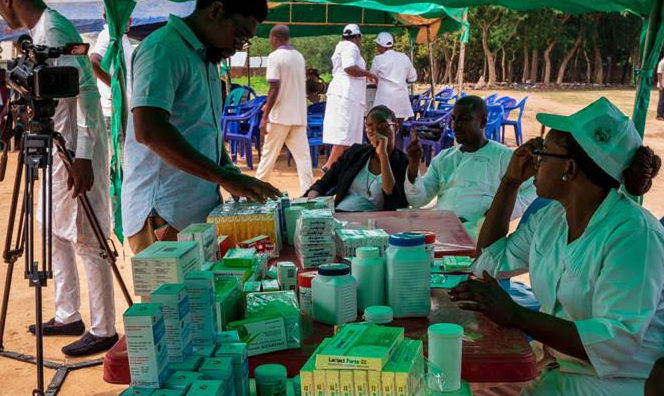 The National Association of Seadogs recently reached out to members of the Dakibiu community with a free Medical Mission. OBINNA ODUNZE, who was there, reports that though the community shares border with the affluent Jabi District, there is a total lack of government presence.
Dakibiu, is a community right at the heart of Abuja, the Federal Capital Territory. It nests beside, Jabi, a highbrow district in the city.
By its proximity to Jabi, the assumption would be that the affluence of the district would rob off on it.
Well that is sadly not so.
Dakibiu Village, with a population of about 6,000 residents, is the proverbial poor cousin of the rich and affluent, Jabi, lacking in every social amenity and seemingly abandoned by government.
Recently, members of the National Association of Seadogs, NAS, aka Pyrates Confraternity, visited the community for their annual quarterly medical outreach. The outreach, organized in collaboration with the Federal Capital Territory Primary Healthcare Board, Abuja, was aimed at giving medical care to members of the community, which lacks a primary health facility and whose resident can hardly afford to go into 'town' for medical treatment.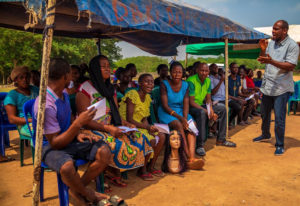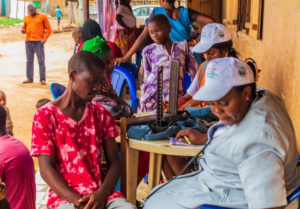 According to Dr. Joseph Oteri, NAS Medical Coordinator, the Free Medical mission is a quarterly community service programme where the Association offers free medical treatment for non-referral ailments to indigent members of a community of choice.
For this quarter's outreach, he said a total of 287 patients (98 male and 189 female) had consultation and received treatment, 16 children received Oral Polio vaccine, OPV vaccination, and other antigens.
He explained that the patients attended to by NAS Medical team were aged 2 months to 80 years, while services offered included; Medical consultation, Laboratory services, Health education and Immunization.
While in the community, the Executive members of the association paid a courtesy/ familiarisation visit to the traditional ruler of Dakibiu, Ishaku Lamishi (Dakacin Dakibiu), who lamented that the community, though located less than 10 km from Abuja metropolis, had no primary healthcare facility or any other government presence.
READ ALSO: Aggrieved LUTH Doctors Begin Two-day Warning Strike
He told his visitors that through daunting challenges, the community had tried through self-help to provide some basic amenities for itself.
The Dakacin Dakibiu, pleaded with members of NAS to assist them in bringing their need for a primary healthcare facility to the attention of those in authority.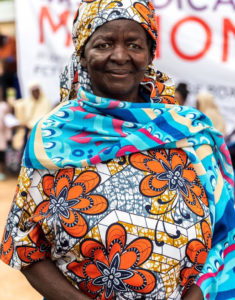 Also, a resident of the community, Mrs. Hanatu Obinna, nee Musa, a widow, lamented the absence of government presence, especially in the area of healthcare, noting that the only private hospital in the community "was very expensive and out of reach."
She expressed gratitude to the association and called on the government to help them with a primary health centre to take care of their health needs.
Responding, the leadership of the association promised to do all they can to assist the community.