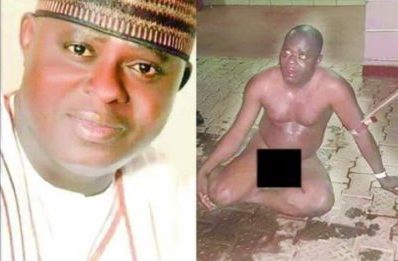 The Nasarawa State Chapter of the All Progressives Congress, APC, has condemned the video clip of its Senator-elect, Godiya Akwashiki being beaten and stripped naked for alleged adultery.
In a statement signed by the state Chairman of the party, Mr. Philips Tatari Shekwo, which was made available to the Next Edition, the party said; "We condemn in the strongest terms this barbaric act. It is unfortunate that this barbaric act could be meted on a public figure of this high status, no matter the alleged offence."
He called on members and supporters of the party to remain calm and law abiding and refrain from taking laws into their hands.
READ ALSO: Image of Jesus Appears in the Sky
Mr. Shekwo noted that the party had set in motion machinery to investigate the incident to ascertain the facts and truth of the matter.
He also stated that any member of the party found to have taken part in the incident would be sanctioned.
"Be rest assured that anyone found to be involved in this unfortunate incident, and is a member of the APC, will be sanctioned in accordance with the party's constitution, just as the party will also allow the laws of the land to take its due course.
"We enjoin all those that could be affected by this incident to exercise patience while the investigation is in progress," Shekwo said.