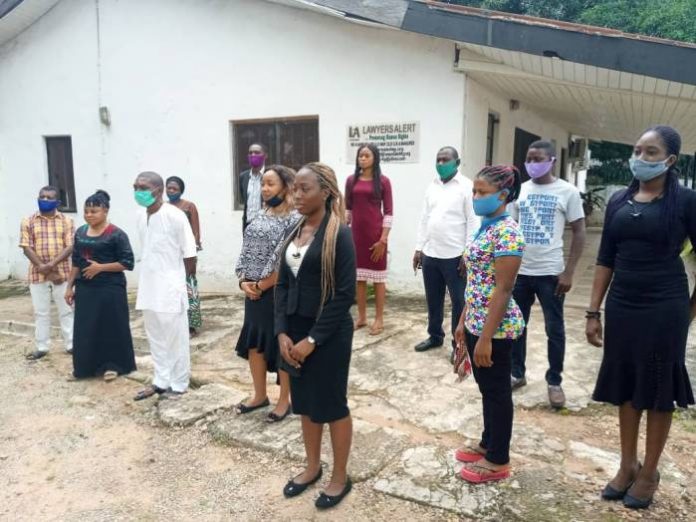 Lawyers Alert (LA), a human rights based organisation has rolled out a work plan that will provide immediate succour as well as long term and sustainable source of income for the deaf community in Benue State.
LA's Director of Programmes Jerome Uneje, disclosed this while addressing members of the Benue State Association of the Deaf (BSAD) Makurdi Branch, at a one day strategic meeting held at LA Conference Hall on Thursday, in Makurdi.
He said the work plan is to properly guide LA's "intended and calculated activities that should yield beneficial results and/or outcomes" to BASD in the long run.
The one day strategic meeting follows the first interractive meeting with the deaf sometime in May this year, at the peak of the Covid-19 pandemic, LA noted.
In inviting others to join hands in reaching out to the "underserved and vulnerable groups" in the society, LA believes that the task cannot be accomplaished by one individual or organisation.
"We believe that as a Civil Society Organisation, we cannot do this alone and harvest all the desirable results especially when it comes to the rights of the underserved or vulnerable persons," Jerome said.
READ ALSO: U.S. To Channel Outstanding 2020 WHO Dues To Other Areas– Official
Speaking on behalf of the LA President Rommy Mom Esq, the Director of Programmes reiterated the commitment of LA in ensuring advocacy, free legal representation, monitoring and documentation of violence against women and girls as well as legal literacy.
"LA prioritises women and other vulnerable groups in her day to day endeavours and commit to protect and defend their rights especially because they are the most vulnerable and susceptible groups in every situation, which the Benue State Association (BSAD) is a part," Jerome said.
Leader of the deaf in Makurdi, Tardoo Amande, expressed happiness that LA has come out with a work plan that seeks to address their needs.
He thanked LA for the initiative and appealed for the expansion of the work plan to accomodate many of such vulnerable members of the Benue society.