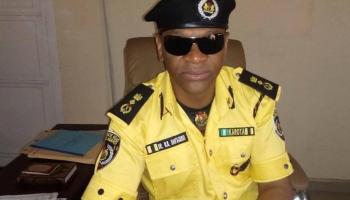 The Kano State Road Traffic Agency (KAROTA), has seized 1,800 bags of fake and expired flour at Singer Market in Kano.
The Managing Director of the agency, Baffa Dan-Aguńdi made the disclosure while addressing newsmen on Wednesday in his office in Kano.
He displayed the bags of flour which had 'CHOKE' written on them to the journalists.
According to him, the seized flour was equivalent to three trucks containing 600 bags each.
He said the seizure was made possible by a tip off from some of the agency's informants.
The KAROTA boss noted that the fake flour products were to be sold to the public for consumption, which he said was dangerous to the health of the people.
Stating that the seized products had been handed over to the state Consumer Protection Agency, he said that the operation was carried out on the orders of the court.
READ ALSO: NAFDAC destroys N650m fake products in Kaduna
He explained that the law which established KAROTA gave it the right to intervene on issues that need enforcement in the state.
"Therefore, I assure you that anyone caught in such an act, we are going to arrest that person and hand him over to the appropriate authority for prosecution.
"There is a suspect in connection with this issue that ran away, he is a well-known person in the state, and we are doing everything possible to arrest him. We already have one suspect who was arrested and handed over to the police," Dan-Aguńdi stated.
Dan-Agundi called on the public to always inform relevant agencies like National Drug Law Enforcement Agency, National Agency for Food and Drug Administration, Consumer Protection Council and the Police whenever they suspect such criminal act, adding that his agency offers rewards for such information.