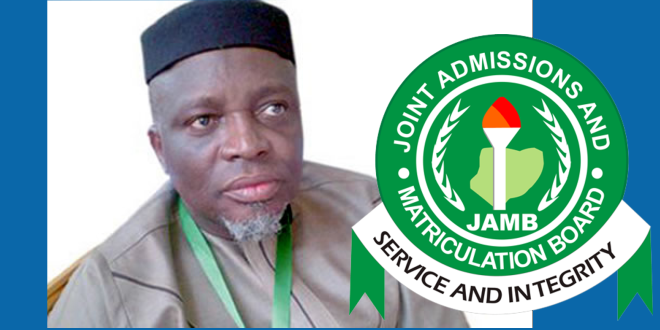 The Joint Admissions and Matriculation Board (JAMB) has set new guidelines to curb forgery of 'A' level certificates as it also resumed the 2023 Direct Entry (DE) registration.
The Registrar of the board, Prof. Is-haq Oloyede, who made this known at a news conference on Monday in Abuja, said the DE registration would come to a close on April 28.
While lamenting high level of forgery of A Level certificates being used for the registration, Oloyede said the board had introduced new guidelines to checkmate such act.
"You will recall that the board commenced the 2023 Direct Entry registration on Monday, Feb. 20, but had to immediately suspend it following the discovery of the plethora of devices and machinations to circumvent and compromise the standard of A level qualifications required from DE candidates.
"Recall that recent joint operations of the Federal Ministry of Education and the Independent Corrupt Practices and Other Related Offences Commission (ICPC) on DE qualifications brought to light some of these unsavoury and nefarious activities.
"Bayero University, Kano (BUK) has also consistently brought to the fore the high rate of forgery of A' Level qualifications for DE.
"For instance, it was discovered that in previous years, some candidates used unacceptable and forged A level certificates/qualifications to register for DE and eventually got admitted," he said.
"For example, out 148 candidates verified by BUK, only six were found to be genuine. By implication 142 of the results were forged.
"The board, concerned stakeholders and institutions are working assiduously to detect such and the ones already found, are being dealt with according to the provisions of the law.
"In order to further checkmate the anomaly and to also prevent recurrence of such irregularity, the board has decided that the 2023 DE registrations will not only be restricted to JAMB (Professional Test Centres (PTCs) but will also be done under strict supervision.
"The board has provided additional guidelines to all DE registration outlets (JAMB-owned centres), Officers of the board and candidates on the 2023 DE registration exercise.
"At the point of registration, all candidates must fill in their registration/matriculation number of the previous school attended where the qualification was obtained; Subject(s) of qualification; awarding Institution; institution actually attended," he added.
Oloyede said the board would only accept 13 qualifications/certificates for the 2023 DE registration, which include first degree, university diploma,
Higher National Diploma (HND); Ordinary National Diploma /National Diploma (OND/ND) and Nigeria Certificate in Education (NCE).
He said others were Interim Joint Matriculation Board (IJMB) A' Level, Joint Universities Preliminary Examination Board (JUPEB) A' Level,
NABTEB Advanced National Business Certificate (ANBC), and NABTEB Advanced National Technical Certificate (ANTC).
He also listed NABTEB GCE-A' Level (2015 to 2021), Higher Islamic Studies Certificate (HIS) by NBAIS, International Baccalaureate (IBN) and the  National Registered Nurse /National Registered Midwife (NRN/NRM) in the group.
He, however, said that the 127 candidates who had earlier registered for the 2023 DE before the exercise were suspended and would be requested to return to the registration centres and update their application.
Oloyede also revealed that the data bank put in place to address challenges associated with the A 'level qualifications had now been renamed "Nigeria Post-secondary Education Data System (NIPEDS)."
He said that the board had introduced new measures in the conduct of the 2023 Unified Tertiary Matriculation Examination (UTME), while calling for understanding.
READ ALSO: INEC Postpones Collation Of Results In Adamawa
"The board has instituted some measures which are to be deployed during the 2023 UTME exercise.
"In spite of the fact that the innovations have been tested and certified, yet it is not unlikely that some hiccups might spring up when the new technology is deployed live and nationwide.
"We therefore solicit your support and understanding as we promptly address any unforeseen circumstances.
"One major feature of the new dispensation is that no examination will be allowed to take place after one hour of its scheduled start time.
"The board has discovered that some of the problems reported at the centres are contrived to delay the commencement of a session in some centres with a view to securing undue advantage for the delayed candidates, " he said.
He said that any session that for whatever reason or reasons), that could not take-off within one hour of its schedule would automatically be rescheduled.
He said that when such occurred, affected candidates were expected to file out of the examination hall into the waiting hall and await the new scheduled time and place which most likely would be the same or following day. (NAN)