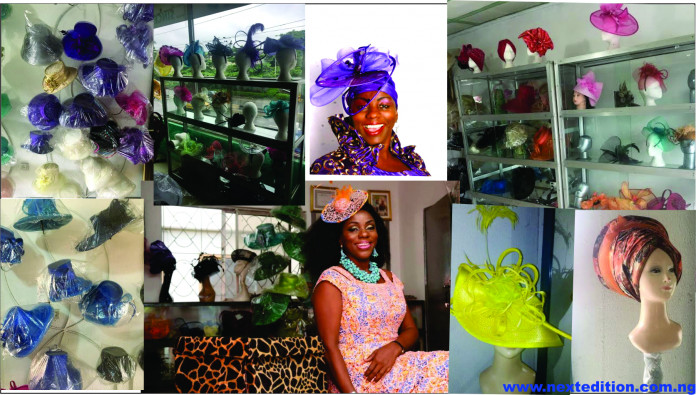 Walking into Grace's Hats located at No 7B, Toyin Street, Ikeja, Lagos, the first thing that strikes you is a burst of colors, sunny yellows, fiery reds and a little further in, vibrant blues.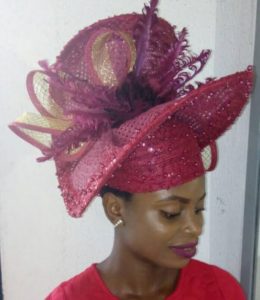 And the fabrics? Wait a minute! The range is awesome. Crinoline, synamay, velvet,  straw, chiffon, lace and various hues of Ankara and other African prints!
There are hats everywhere, large brims, medium brims and small brims. The shapes are out of this world! Outrageous, sophisticated, curvy, and simple without too many details. There's no mistaking what is happening here. It's a nice airy space that's quite inviting.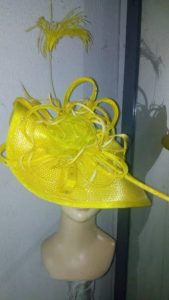 After a little wait, Mrs Grace Chito Mark, the Chief Executive Officer (CEO), walks in gracefully and she's very warm and welcoming without airs. You wouldn't believe this Lady has had her creations worn by Michelle Obama! Yes, the immediate past and most dynamic First Lady America has ever had!
I stand to greet her and she responds with a huge smile even though she was not expecting me and is yet to know who I am. She attends to a waiting customer and then comes out to me and I introduce myself and she sits and we proceed with the interview.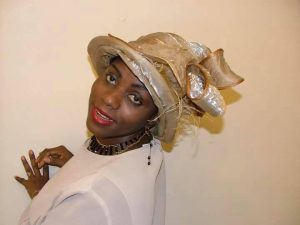 Next Edition: Grace's Hats just turned 37 years old, can you tell us how did you start?
Mrs. Grace Mark: That was many years ago like you've said. My senior sister came to school, and then I was still a young girl in my final year in secondary school. She saw me fiddling with my hands because I love woven work and she just mentioned that 'look,  I think you could make hats' and that was the beginning of my sojourn into the creative world of millinery. She left me with that until after school when I came back and started, and it turned out to be what you see here today.
Next Edition: What do you think has kept you in business for this number of years?
Mrs. Grace Mark: The first and foremost thing that has kept me is God. I found God early in life and I knew that a gift can only come from God so I held my God very closely and tightly. That helped me to be focused, determined and to stay on what I'm doing. I have succeeded because I have God on my side.
Next Edition: Talk to us about the hats, what are people demanding now? What's in Vogue?
Mrs. Grace Mark: We have different types of hats, I try to satisfy people's quest to put something on their heads. Some people like the English wear, some people like the turbans, some people like the head gear, what I mean by head gear is the wraps. For many years, it has been the English hats, the wide brimmed hats and the medium hats that people wear, but recently having discovered that as an African they like to cover their hair and put on something that looks like the head tie or a wrap, we call it Turban and that's how I started doing turbans. The kind of turbans we do we call it Tunic Turbans; we got it from the fascinators, the little hats that were in vogue before now. So I had to combine the fascinator and the turban into what I call tunic turban. That seems to be what is in vogue and what many people are doing now.
Next Edition: What is the price range? Are they affordable?
Mrs. Grace Mark: Yes, my hats are affordable. It depends on the individual. You want high taste; we have high value of the taste you want. You want medium one, we have, you want small, casual, we have different kinds. Anybody can walk in here and see something that he or she will like, we are very affordable.
 Next Edition: So basically, there is something for everyone walking into Grace's Hats?
Mrs. Grace Mark:  Yes. We make hats for everyone.
Next Edition: Let's talk a bit about the business aspect. How has the business been doing? Can the business take care of your bills?
Mrs. Grace Mark:  Someone that is on God's side, God will defend the person. Like I said, I cannot do without talking about my God, he has been the one that has sustained me. I cannot begin to cry like others who don't know him. With God all things are possible. He has been faithful.
Next Edition: Let's talk about your most important endorsement that happened some years ago.
Mrs. Grace Mark: Yes, with Michelle Obama.
Next Edition: That's Awesome!
Mrs. Grace Mark: She has about three or four of my hats in her wardrobe. She wore it and I think it appeared on CNN and it was boldly written Hat by Grace's Hats in Nigeria.
Next Edition: How did that happen?
Mrs. Grace Mark: Same God connection! There is this group of Ladies that I'm part of, they called themselves 'The Hat Ladies of Charleston'. They have been there for like 15 years now, about three, four years ago, we decided to be having an annual convention for the Hat Ladies all over the world. We started in New York, when we thought of someone to grace the occasion so we invited the First Lady.  And that was how I got in contact with her and she got to wear my hats.
Next Edition: That's nice. What advice would you have for someone who is starting a new business, not just in this area but in any other creative area?
Mrs. Grace Mark:  I believe that every human being created by God has creative abilities because God is so creative so he shared his creativity with the human beings that he created. Having said that, anyone that wants to venture into business should make up his or her mind on what they want to do, have a vision, and then make sure you have something that you are holding on to. You have the vision, the creative idea, the passion, you're determined and focused, by the time you put all these things together, you will run with it. It's good to start small, I started very small, as small as N10 but today it's not the same story. So, any person wanting to start a new business should not be afraid to start small and grow big.
Next Edition: Thank you very much, it's been a pleasure.
Mrs. Grace Mark: You're Welcome.
And with that the interview was over. We don't celebrate the Nigerians doing exceptionally well here at home enough; she has been to the zenith in her chosen career and is still learning and growing in leaps and bounds. That deserves to be celebrated.