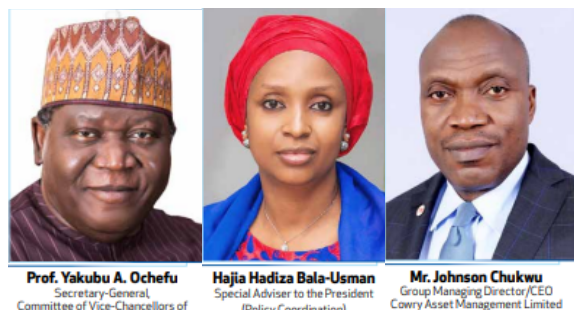 Seasoned professionals have been selected as panelists to speak at the 2023 annual conference of the Guild of Corporate Online Publishers (GOCOP) holding on Thursday, October 5, 2023, at Abuja Continental Hotel (Old Sheraton Hotel), Abuja.
This line-up, according to the chairman of the GOCOP 7th Conference Planning Committee and deputy president, Mr. Danlami Nmodu, mni, include the Secretary-General, Committee of Vice-Chancellors of Nigerian Universities (CVCNU), Prof. Yakubu A. Ochefu; Special Adviser to the President (Policy Coordination) Hajia Hadiza Bala-Usman, and Chief Executive Officer, Cowry Assets Management Ltd, Mr. Johnson Chukwu.
The GOCOP Publicity Secretary, Mr. Remmy Nweke, in a press statement, also noted that the conference would be presided over by the Registrar and Chief Executive Officer, Join Admissions and Matriculation Board (JAMB), Prof. Ishaq Oloyede, while the first Nigerian professor of Capital Market, Prof. Uchenna Joseph Uwaleke, has been confirmed as the keynote speaker.
Danlami was also quoted as saying that the conference would focus on the theme: "Nigeria: Roadmap for Socio-Economic Recovery and Sustainability," pointing out that the choice of the topic is informed by the current socio-political and economic realities facing Nigeria, post-2023 general elections.
Further, Nweke recalled that Professor Yakubu Aboki Ochefu, Professor Yakubu Aboki Ochefu, is an academic, university administrator and entrepreneur. He holds a B.A and PhD degrees in History and Economic History from the University of Calabar, and an M.A in Political Economy from the University of Birmingham.
Ochefu began his academic career in 1985 at the University of Calabar and later transferred to the Benue State University Makurdi in 1993. In 2003, he was promoted to the rank of Professor of Economic History and Development Studies. At the Benue State University, he held various positions such as Head, Department of History, Dean Students Affairs, Deputy Vice-Chancellor, and Director of Consultancy Services. From 2012 to 2017, he was Vice-Chancellor of Kwararafa University, Wukari in Taraba State. He was in 2019 appointed Secretary-General of the Committee of Vice-Chancellors of Nigerian Universities, and Committee of Pro-Chancellors of Nigerian Federal Universities.
Hadiza Bala Usman is a Nigerian politician who served as managing director of the Nigerian Ports Authority from 2016 to 2021. Previously, she served as the chief of staff to the governor of Kaduna State from 2015 to 2016 and was appointed special adviser on policy coordination to President Bola Tinubu in June 2023.
Since 2014, she is one of the co-founders of the Bring Back Our Girls campaign and in year 2000, she graduated with a bachelor's degree in business administration from the Ahmadu Bello University in Zaria and later received a master's degree in development studies from the University of Leeds in 2009.
Whereas, Mr. Johnson Chukwu, the chairman and founder, Cowry Assets Management Ltd, and prior to the establishment of Cowry Asset Management Limited, has been actively involved in the Nigerian capital market and was instrumental to the establishment of one of the most vibrant capital market operator, as the pioneer General Manager/Chief Executive Officer of Guardian Express Trust Limited (now Spring Capital) – a subsidiary of Guardian Express Bank Plc (now Spring Bank Plc).
Before joining Cowry Asset Management Limited on a full-time basis in October 2007, Mr. Chukwu was between February 2006 and September 2007 a Deputy General Manager and Group Executive, Operations of Spring Bank Plc.
Mr. Chukwu is a Bachelor of Science (B.Sc.) second class upper degree holder in Accounting and a University of Lagos Scholar. He also holds an MBA from Lagos Business School (Pan African University).
Preceding speakers at GOCOP annual conference, he said, include the chairman of the Independent National Electoral Commission (INEC), Yakubu Mahmood, who in 2022, spoke on '2023 Elections: Managing the Process for Credible Outcome'; Most Rev. Matthew Hassan Kukah, the Bishop of the Catholic Diocese of Sokoto, who delivered the 2019 lecture on: "Economy, Security and National Development: The Way Forward."
While in 2021, he said, Mr. Boss Mustapha, Secretary to the Government of the Federation, keynoted the conference in his capacity as Chairman of the Presidential Task Force on COVID-19, on "Post COVID-19 Pandemic: Recovery and Reconstruction in Nigeria."
About GOCOP:
GOCOP was established to ensure that online publishers uphold the tenets of journalism in doing their jobs and our membership is a constellation of Editors and senior journalists, whom, having distinguished themselves in their various stations in the print and electronic media, ventured into online publishing, which is both the present and future of journalism globally. Currently, the Guild has over 90 corporate publishers as members.