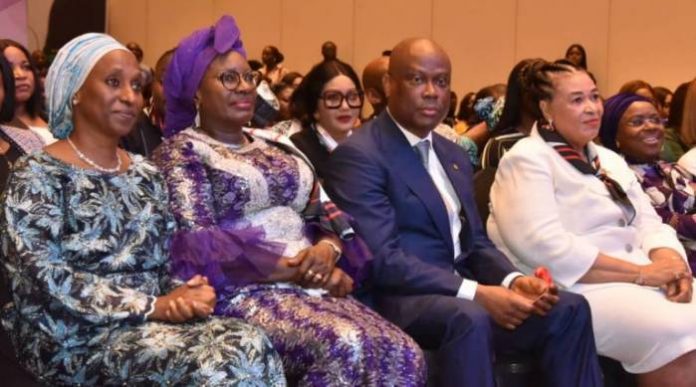 Speakers at the Access Bank women conference have called for equitable representation of women in the workplace.
The News Agency of Nigeria (NAN) reports that the conference was organised by the bank to mark the 2023 International Women's Day (IWD) on Thursday in Lagos.
The 2023 IWD had the theme: "Embrace Equity."
In his keynote speech , Dr. Akinwunmi Adesina, President of the African Development Bank (AfDB), said that the bank had the highest percentage of women enterpreneurs in the world.
Adesina said that in many African countries women were responsible for most of the agricultural production.
"Women in businesses are on the rise across the country and have contributed significantly to job creation and economic growth.
"Women are bankable. It is, however, believed that women in Africa continue to face a fallen two billion dollars finance gap. How do we explain that? There is inbuilt gender based biases against women in terms of access to finance," he said.
Adesina said that as Africa's premier financial institution, the bank remains committed to empowering women and closing the gender gap in African countries.
He said that the AfDB was making efforts to achieve gender parity across its workforce in the near-term.
"Currently, the overall distribution is 39.5 per cent women and 60.5 per cent of men are going to split to achieve full gender parity at the African Development Bank by 2028.
"We are making significant progress, already 50 per cent of my executive leadership team is made up of women," Adesina added.
According to him, now is the time for women to take action, raise equity and build a better and more inclusive future.
"By investing in women, we create a ripple effect that positively impacts the entire community," Adesina said.
In her goodwill message, the wife of the Vice-President, Mrs Dolapo Osinbajo, frowned at the stigmatisation of women in the society.
Osinbajo said that the conference was a forum for women to talk about issues affecting them.
She noted that many women had achieved great heights in the society in spite of the challenges.
"Surely their successes will give validation to the dreams of others; those who are here and those who are online.
"And so for a moment I'll speak about dreams. What are your dreams? Where are your dreams? Are they very good? Are they burning in your heart to inspire today by all you see around you?
"Step down the doubt. The doubt of faith can I do it? Step down the fear," Osinbajo said.
She enjoined women to dream big without thinking of limitations as obstacles.
The Minister for women Affairs and Social Development, Pauline Tallen, said that women should be celebrated because of their uniqueness.
Tallen expressed gratitude to the chairman, management and staff of Access Bank for putting up the event to celebrate the uniqueness of women.
READ ALSO: Whitemoney Fires At Victoria Inyama For Insulting His Family
She also appreciated the Wife of the Ondo State Governor, Mrs Betty Anyanwu-Akeredolu, for her support in women emancipation through her non-governmental organisation.
Also speaking, the First Lady of Ondo, Anyanwu-Akeredolu, decried the number of women elected into the National Assembly.
Anyanwu-Akeredolu said that voter intimidation, suppression and electoral violence would deter women from taking part in the electoral process.
According to her, women should learn to speak out against societal ills and be ready to support one another to become the best in life.
She said that if women find themselves at the corridor of power, they should be able to provide WASH facilities for girls in school, especially to take care of themselves during their monthly flow.
She said that no child should be left behind at home without going to school due to lack of sanitary pads.
She added that with the advancement of technology, pregnant woman should not die while giving birth if the right infrastructure and medical care were provided.
In his address of welcome, the Group Managing Director/ Chief Executive Officer, Access Corporation, Dr. Herbert Wigwe, said that the bank was at the forefront of stamping out the discrimination of women in the workplace.
Wigwe said that all hands should be on deck to share the bank's vision of gender equality and equity.
He expressed gratitude to the chairpersons who had led the bank both in recent past and the current one, adding that the bank experienced tremendous growth under their watch.
Wigwe noted that the theme of equity gives room for all women to thrive above their limitations.
"Equality is society's destination. Equity will be the root for all of us to get there.
And in such a world, no one is left behind," Wigwe said
The Group Head of 'W' Initiative's at Access Bank, Mrs Abiodun Olubitan, said that the bank dispensed N40.5 billion worth of loans to women SMEs in 2022.
Olubitan disclosed that the bank had earmarked N100 billion for loans for women SMEs in the current year to enable them boost their businesses.
She said that the theme of the 2023 IWD celebration was apt.
"What we are saying is equality is different from equity.
"So yes, you can give everybody a shoe, both man or woman, but do you give them the shoe that fits them is what equity is talking about.
So, we want to give everybody fairness and equal opportunity to thrive to take advantage of everything available around them, both man and woman," Olubitan said.
The event was attended by women from all walks of life.