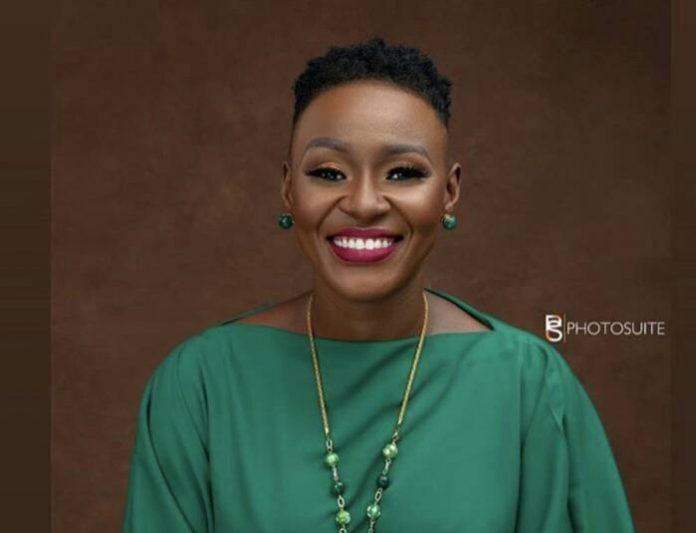 Adenike Oyetunde is a Lawyer, Social Media Personality, Founder of Amputee United and cancer survivor, and most importantly, an amputee who has decided to encourage others through her story. She lives to spread hope, and joy wherever she can.
Adenike who lost her limbs to cancer at the age of 20 has also added a beautiful feather to her hat as an author of the book 'Adenike.'
She spoke with THE NEXT EDITION about a variety of issues.
TNE: The picture of you in a brown suit went viral and introduced you to people who didn't know you before, tell us about who Adenike really is.
It became clearer to a lot of people who did not know what it was so they had a visual image to what the journey was after that picture. I am grossly optimistic, someone who loves life, someone who is sold out to problem solving, problem solving comes to me very naturally. I'm a lover of books, I try to be a reader of books as well. I like good food. I love compliments, that happens to be one of my love languages. I like good life. Adenike doesn't like to stress herself when it comes to hair. I don't like making my hair but every now and then I'll go out of my way to ensure I do something about my hair. I love cleanliness. Adenike hates mosquitoes with a passion to the point that I'll wake up in the night once I hear the sound and turn on the lights and sitting still till I find it. Adenike is a God lover, a connector of people. Adenike is joy. Adenike is hope.
TNE: Your leg was amputated because of cancer, can you share with us what type of cancer and how you dealt with finding out you had cancer to agreeing to have your leg amputated.
Well, the kind of cancer was osteogenic sarcoma and in my book, Adenike, I took my time to explain it but I'll share some about it. It was basically osteogenic sarcoma which means cancer of the bone and it was in my leg.
Finding out took over a period of time so it was a sudden diagnosis, however, the diagnosis in itself was sudden because it was not what I would have expected in my widest and wildest imaginations. After the diagnosis, I also had a journey before amputating my limb, I feel like I handled it and thankfully it wasn't an aggressive cancer. I didn't have a few weeks or months because if I did I'm sure I would not be here it meant that the cancer would have spread aggressively and extensively across my body.
TNE: How did you handle the reactions the picture got and were you prepared for it?
I really wasn't prepared for anything because I wasn't expecting anything. I'm a happy go fellow, I just had fun. I realized that quite a number of people reposted. I like that the response wasn't sudden it spread over a period of time. Two weeks after, I would get a random message in my DM talking about the power of the picture and how it had impacted on someone's life. Months after that, even years after that.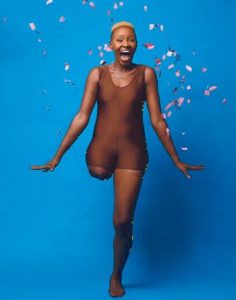 Just last year, I attended a wedding at Ikoyi registry and the man had followed me and his wife had also been amputated. It was so sudden but I had to make time and stop over at the registry wedding and take a picture with the couple. I'm very grateful that it spread over a period of time I'm sure that also precipitated in my reacting as you have put it. I wasn't expecting anything so there wasn't much to prepare for.
TNE: Some people say a person is incomplete without all their body parts. What do you say to that?
My question to them would be "Does it mean that they are also incomplete when certain parts of their lives aren't as they planned?" I think it's flippant, careless and grossly misleading. It's ill-informed.
TNE: You have done appearances without wearing your prosthetic leg, can you speak on that? Was it a conscious decision or it just happened?
I feel like because the world expects every amputated person to have a prosthetic limb it informs the need for me to explain to people why I don't have one. The reality about it is that it's aesthetic, it is what is is. It's like a wig some days you don't want to wear it, some days you don't and, besides, some people do not even want to wear any at all. It's a journey for every amputee but the society always pushes pressure on us to always want it, always know when to want it. It's a make believe idea that with the prosthetic limb life becomes as it was and that's a huge lie. If you have it, wear it. If you don't want to wear it, it's okay. If you can afford to get one, get one. If you cannot afford to get one, work towards getting one if it's something that you're desirous of getting. If you don't want it and people think you should want it, clear their doubt, put them straight and educate them and tell them that I don't need it. I don't expect that you should expect me to have one.
That's a journey even for myself inclusive tomorrow you may see me wearing one, next week you probably see me without one, it's largely dependent on my mood.
TNE: Tell us about your book and writing. How did you get into writing and how did you get inspiration for your book?
The inspiration to write my book was because it's my story, I wanted it to be my narrative.
It was just time to write the book basically.
Trajectory of events had happened in my life that had just culminated into this one happening. I followed the trajectory thankfully being spurred on by friends and family and well wishers.
The book 'Adenike' is about Adenike obviously and it extends and expands beyond limb loss. It starts from my childhood, growing up an only child, what that means and how that translated, Secondary school, University, the few hurdles, getting the diagnosis, life afterwards, facing disability as it is, my God journey in all of this, friendships, community, reunions, togetherness, the intentionality about many things. It's a culmination of so much more.
This is the first installment, I know it will be reviewed or yet another book about something else. Adenike is that book that just pushes my story from my own perspective. I shared narratives from a few friends, my parents. As for inspiration, it was just time to write the book.
TNE: Adenike the author has a nice ring to it. How have things changed since putting that book out?
Well, I feel like what was my expectation before putting the book out that would measure with what the reality has been. Now I understand that writing a book isn't for children ; the money, the effort, the stress, the running around, speaking with stockists, the Nigerian factor, working with publishers, printers, design, the book launch, speaking engagements here and there. It's been a roller coaster, but most importantly, I'm grateful that the story is out there. The story is out there to encourage people. It's a story of hope, it's a story of joy, of optimism, of strength. It's a story of decision, of intentionality so it's been good. I'm sure it will journey round the world, I'm very positive about that. It's a gift that keeps giving.
TNE: Let's talk Social Media. Yours is filled with you airing out various views, one recently about the 1004 incident. Why do you choose to use social media this way and what do you hope to achieve?
Social media is my tool and what it's I've chosen to do with it. I feel like social media has given me an influence and I'm riding on it.
I will talk about anything and everything I desire to talk about on that platform. Last week, when I talked about this story and it was necessary for me to share. It was more instructive for me to share because the friend I was meeting with had always lived in Nigeria and just travelled for holiday and school and was around. It was such a drastic and rude shock from our conversation because we were talking about decadence in the moment and it was so raw to see it. I feel like my platform is any platform that I will talk about everything, I will share experience, socio-cultural issues, political subject matters, subject matters of love. I will engage people and I will start conversations, if I'm not starting conversations I will extend conversations, I will try to bring perspective to conversations.
TNE: Another thing you speak a lot about is 'Living Intentionally', what does that mean to you?
It simply means living with intentions. But the perspective it means that you're intentional about everything; who you follow, what you listen to, conversations you have on social media, places you comment on social media, the kind of comments you drop, what you eat, who you date, where you worship, what kind of hair style you have on, what kind of lifestyle you have. Intentionality means all of these things, living life circumspectly. Intentionality means living in the moment, enjoying the moments of my life. Intentionality means understanding that when doors are shut, doors are shut because God has ordained that they be shut.
That's what intentionality does and means to me now in the broader scheme of things.
TNE: Where will Adenike be in 5, 10 years?
Adenike will be where she will be. Changing the world, wherever it is Adenike will be she will be. I'm not one who has grand plans or say in 10 years I should be working in the United Nations. Who knows? Possible. Adenike will be where she will be in five or ten years. Adenike will have a family hopefully by then, I've always wanted a family, I've always wanted to have kids of my own. Fingers crossed. I'm just very optimistic that Adenike the core of who she is now will just probably be expanded on different platforms and more platforms as the case may be.