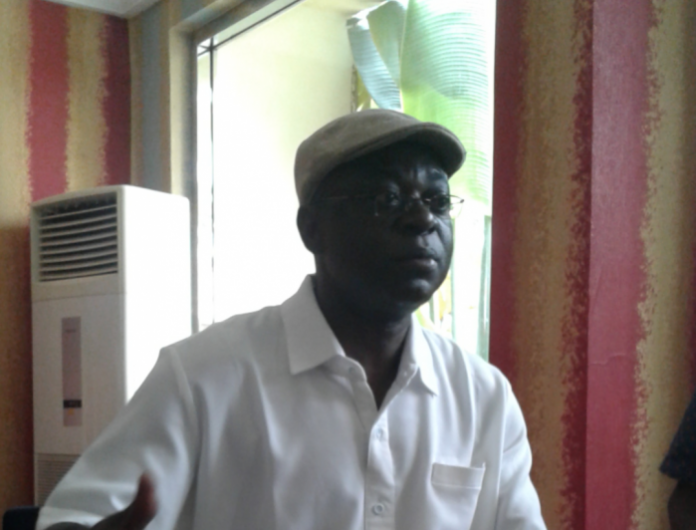 Mr. Emmanuel Orker Jev is a National Assembly Member representing Benue North-West Senatorial District. In this interview with The Next Edition's Correspondent, Dooshima Hir, Jev said he will synergize with other Benue leaders including George Akume to bring dividends of Democracy to the state and his constituency. He also spoke on other national issues including the observations by the Nigerian public that the 9th National Assembly would be towing the line of the executive. He argued that it was too early to describe them as rubber stamps. In addition, he spoke on the latest topical issue, the Value Added Tax, VAT, increment.
TNE: There are insinuations in town that the incumbent Governor Samuel Ortom, may likely go for your seat at the expiration of his second tenure as governor. If that happen, are you going to jump ship?
I have heard that speculation from the social media and elsewhere about me and the governor starting a fight over the seat. I think people will be terribly disappointed if they are expecting a fight between me and the Governor.
The Governor and I will continue to be close allies till the end of our tenures. That is all I can say. I have been given four years to do my Senate tenure. I am not taking it lightly but with a whole lot of responsibility. So, I won't bother myself about what happens thereafter. I think what we pray for is to have long life and prosperity. That to me is more important than any other thing. There is no point making enemies over something that may not come within reach.
TNE: What is the challenge of facing a larger constituency, from the House of Representatives to the Senate which consists of seven Local Government Areas, LGA?
To start with, the pressure is more. If you visit my house when I'm there, what you'll see will show you. The pressure from people coming with their personal problems is far more than what I experienced before. And now it is seven Local Government Areas, no longer one, so the pressure for development in those areas will be far more than when it was one. Basically, the pressure and the expenses are more.
TNE: There are also insinuations making the rounds that you and Mr. Gabriel Suswam are planning to dump the Peoples Democratic Party, PDP. How true is this?
I'm just hearing this. I saw Suswam's denial somewhere and I didn't know I was also included in the rumour. No, no, no. People like to throw up controversies so that you are perpetually defending yourself. I don't like defending myself like this in all issues. I don't know about that.
TNE: Benue State is an agrarian state and you represent the bulk of the people who are farmers. The federal government is talking about diversification of the economy, what do you think should be done for the people to embrace farming fully?
The average Benue person will rather stay on his farm but what we find happening now is that a lot of people are found staying in the IDP camps because of the insecurity in the state.
So, first and foremost, we must secure our people against attacks otherwise, no matter what other incentive you put out there, without security, people will still be afraid to go to their farms. I still get emotional whenever I am going to Abuja and I see our people staying there. That shouldn't be so. Section 12, sub section 2 of the 1999 Constitution (as amended) states that, the primary responsibility of any government is welfare and security of the people. If you don't do that, it means, the government has failed point blank.
As a legislator, we have our own limitations; we don't control any of the security agencies.
You can only pass a resolution and call upon them to obey. But I would like to remind you that resolution is only persuasive, it doesn't have the force of law. On my part as a legislator, I will continue to draw attention any time anything warrants the security agencies to take steps. If they obey it, fine, but if they don't, we will continue to shout.
TNE: The Nigeria Financial Intelligence Unit, NFIU, is calling on the National Assembly leadership to make public their accounts. What is the Constitutional provision?
Well, both Saraki and Dogara during their campaigns said they will open up the budget of the National Assembly which was before them and that has been done since the 8th Assembly. The media and members of the public had alleged that the National Assembly has been secretive about their budget, it was opened up and all you need to do is to scrutinize it and know what exactly is going on.
TNE: There is a wide perception among the general public that the Assembly is a rubber stamp and there is no opposition to President Muhammadu Buhari especially with the recent VAT increment. What should Nigerians expect from the National Assembly?
I guess you are talking about the 9th Assembly.
We have just taken off and it is too early to come to that conclusion. After the inauguration, the only thing we have done is the screening of the ministerial nominees, I can't speak for the National Assembly as a whole, I can only speak for myself for now. It is when we get in and see the direction the present leadership wants to take the National Assembly that the public can make their conclusions. But it is too early now to say that.
TNE: Recently, Governor Nyesom Wike of Rivers State said that some PDP Governors visit the President at night. Does that mean there's crisis in your party and do you think PDP is close to wresting power from the All Progressives Congress, APC with what we are seeing?
Some of these things are mere speculations.
When you have a collection of people, you allow them to air their views but that doesn't mean there is a break in the family. I think they are blowing certain statements out of context.
Even though we belong to the same party, we have different tendencies. Sometimes, you have the far right tendency, sometimes, you have the middle tendencies and the left tendency. Those are the things playing out and not individual disagreements.
TNE: During your campaigns, you pledged to relieve some of the challenges facing your people. What would you do differently to ensure the challenges are taken care of?
I don't make promises when I am campaigning. It is a dangerous game. Rather I listen to my people to hear what issues and problems my people were facing so that I would present them there when I get to Abuja. That is what I do.
It is dangerous to make promises. As an executive, the day you enter office, you can begin to award contracts and execute projects if the money is there, but as a legislator, you cannot do that.
Basically, the role of a legislator is not to execute projects or bring physical development.
It is because of the tremendous lack of infrastructure in the country and the pressure on every elected person in the country to bring development that we started this idea of constituency projects in 2003. So, if you go and make promises that you are not able to fulfil, you would have deceived your people.
Right from when I was representing only Buruku, what I do is, listen to their challenges and when I go back, I present them. How I'm able to do it depends…It is very dicey. We have over 400 people there when you combine the two chambers, jostling for something to bring back.
So it's a cut throat game. It depends on how you make friends, how you meander your ways in the system that you attract things.
TNE: What about constituency projects?
That one is basic. Every state has N1.5 billion for constituency project and three Senators and House of Representatives members that are there. So, it depends on how many representatives you have. Sometimes, what a Rep member is entitled to may not be up to N20 million for constituency projects. When you come to a place like Benue, it's between N70 to less that N10m, whatever you can do outside of that will depend on how you are able to meander your way through. So, it is just to satisfy the yearnings of the people back home because if I come home and say I sponsored a 100 bills, people may not even clap. What they want is something physical. But if I'm able to sponsor only a single bill and I bring a lot of development, people will clap for me even though, strictly speaking, the role of a legislator is to make laws, oversight and represent in terms of putting the problems across to the House.
TNE: This construction of a bridge across river Buruku has consistently been in the budget. How would you make this a reality?
Like I said, I will continue to put across the issue of the bridge. It's an issue that is very dear to me. I have put up at least three motions and the last one made the House to put together a committee that went and saw it and recommended that it be included in the 2019 budget, but unfortunately by the time the committee finished its work, 2019 budget had been presented. The bridge is not the kind of work you will present as a constituency project. It is worth billions and billions of naira. It has to come from the executive arm of government as their own project. Now, I have a larger constituency, I will continue to push.
When I was going to the National Assembly, I told myself that if there was just one project I would do and no other, it should be that bridge because I know its economic value not just to Buruku, but to the entire North-East and a lot of other places.
TNE: After your election to the Senate, you emphasized that your opponent, George Akume, still remains your boss. Now that he is appointed Minister, how would you synergize with him to bring dividends to the people of Benue state particularly, to your constituency?
We should not allow politics to divide us. My position still remains. I am not in contention with him for leadership. I'm just a messenger of the people and he remains my leader. I just hope he sees things that way so that we synergize. We claim to be there for the interest of the people, we have no reason to allow personal differences to stand in the way of doing work for our people. Basically, that is what I think. But I can only speak for myself. I cannot speak for him or any other person. For me, I will continue to extend the hand of fellowship. He is my 'Oga', I still insist. Even if we have fundamental differences, we should get over it so that the people can benefit.