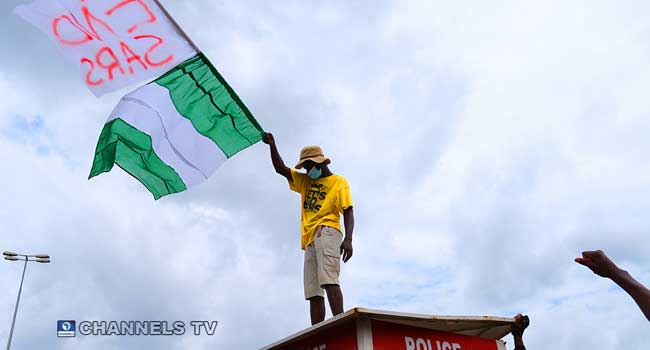 It's been 12 days of sustained nationwide street protests against police brutality under the aegis of the Special Anti-Robbery Squad (SARS). Last week's reported dissolution of the wayward units and their replacement with the Special Weapon and Tactics (SWAT) team did not placate protesters, but caused voices of disenchantment to get louder at home and abroad. Curiously, the Federal Government has literally gone quiet. Irregular sermons by the Vice President on this score are not enough! But the President Muhammadu Buhari-led administration cannot ignore this ticking time bomb. To avoid a major calamity, the government should take the protesters' demands seriously, and effect major shakeups both in the policing structure and governance as a whole.
For so long in the history of our country, Nigerian masses have been content with whatever the system offers. Though their lot has been atrocious forms of leadership, the youth took it all with stoic resignation. And all along, they have been taken for granted. Today, they have learnt to do things differently, speak up their demands for justice, a better society, and insist with grim determination. Ideally, sound ethics and commitment to democratic values dictate that the #EndSARS and #SARSMustEnd protesters deserve to be heard to the last person.
Discontents against the anti-robbery squad formation didn't start overnight. Compelling evidence abounds that the formation is the most notorious, corrupt, brutal and dreaded ring of the Nigerian Police Force (NPF). Recall that the special unit was a stop-gap measure re-created in 1992 to curb growing armed robberies during a face-off between the Nigerian Army and the police, which forced policemen off the streets of Lagos for two weeks. Police later returned, but it did not end the operations of SARS, which was actually created in 1984, according to police archives.
By 2009, the formation had become larger in squad and with extended scope in Internet frauds (Cyber crimes). Despite its terror to criminals, it also became monstrous, largely uncontrolled, enticing for younger officers, and the cash cow of the police hierarchy. Reports abound on how average officers paid as much as N500, 000 bribe to get redeployed to SARS. The drive to recoup 'investment' and deliver quotas to the same hierarchy is what has been driving the impunity and brutality. So, in mufti and unmarked cars, they violently harass, extort and even kill members of the public, especially the youth.
READ ALSO: COVID-19: Unstable Electricity Supply Hampering Treatments – Mamora
By 2018, the first EndSARS campaign drew attention. By 2019, SARS had been disbanded, reformed and decentralised for at least four times. Its notoriety only worsened. It is on record that at least 18 persons were killed by SARS without trial in the first quarter of 2020 alone. This did not account for hundreds that were harassed, tortured and extorted even up to ATM withdrawals. On October 8, some youths felt they had had enough and took their protests to Lagos Government House. That #EndSARS protest has since spread to over 100 cities in Nigeria and overseas, with everyone asking for major reforms both in the police and governance.
Lest we forget, the well-coordinated #EndSARS protesters in Lagos began with at least five demands from the Federal Government, which include the release of all prisoners of conscience, justice and compensation for all victims of SARS, independent investigation of police brutality, training and good salary for policemen. Like a wildfire, it has spread nationwide including the North with demands for an end to insecurity, poverty, unemployment and bad leadership across the board. Indeed, these are far-reaching demands that will not happen overnight but the Federal Government should be seen making sincere moves.
We emphasise that handling a tipping point requires a lot of caution. If this protest continually gets mismanaged, either with more politically sponsored thugs inciting violence or use of security agencies to ward off peaceful protesters, a dangerous revolution may be imminent. The history of all modern revolutions started off with an aggrieved public, recalcitrant leadership and a seemingly small tinder box that got mismanaged. The united Nigeria that Buhari and co. inherited in 2015 cannot afford to slide that path of mutual assured destruction. As an alternative, the Federal Government has to convince the protesters and Nigerian masses as a whole with sweeping reforms to earn their confidence. The era of empty rhetoric is over. The protesters have no reason to take the IGP's calls seriously given that it was the fifth time SARS was being disbanded in three years. Besides, the government and politicians alike have consistently shown to be morally bankrupt, deceitful and untrustworthy. So, the approach has to be radically different this time.
Therefore, it is imperative for the Federal Government to be proactive, investigate and dismantle the police hierarchy. If the Nigerian masses are calling out the police for 12 days nonstop, then some honourable members of the NPF should have resigned or get fired by now. The government should investigate the money trail of SARS too. Who are those getting returns? How much have they been getting? On the other hand, introduce a better condition of service for the police and other security agencies, and begin a total rehabilitation of the barracks nationwide.
While those are ongoing, the Federal Government must begin the process of decentralising the police to make it work for the citizenry. SARS is symptomatic of the failed policing system in Nigeria. As this newspaper has consistently stated, the Federal Government cannot undo the ills of the Nigerian police without tackling the problem from the roots. The people are in a better position to fund, recruit and control their police. Similarly, the political class must show empathy with concessions to the plight of the Nigerian masses. It is bad enough that elected public officeholders were laid back, caught napping and unresponsive to the plights of their electorate and only started speaking up when the youths took on the gauntlet against systemic failure. To show that they feel the public agony, they should surrender about 50 per cent of their incomes to reform the police and other security agencies.
Above all, the Federal Government can only ignore the protesters or attempt to arm-twist them at its own peril. Many notable Nigerians, including the First Lady, Aisha Buhari, are speaking up in defence of protesters and their noble demands. A lot more, both at home and abroad, are committing resources just to keep the protest going. They are all voices of reason and conscience that President Buhari should obey. Already, about 10 persons have died during these protests and attacks on the convoys of two state governors have been recorded. Allowing peaceful protests to disintegrate into riots will be the most dangerous at this time of widespread disenchantment against ineffective leadership.
The president should speak up and directly to the angry youth. It will be a tragic error too for the commander-in- chief to allow soldiers to launch an attack (operation) tagged "Exercise Crocodile Smile" on our children who are campaigning for a better country. Let the soldiers return to their barracks. It is strange too that Nigeria's National Assembly has not fixed a date for an emergency special session on this crisis that is threatening national security. The campaign by the youth should be seen for what it is: a battle for the soul of Nigeria. Let us all come swiftly to a platform where we will all tell our leaders at all levels that there may not be basis for peace without justice – even to the angry young ones who appear quite organised and resourceful this time. Handle them with care, please!
*The Editorial was first published by The Guardian on Monday, October 19, 2020.