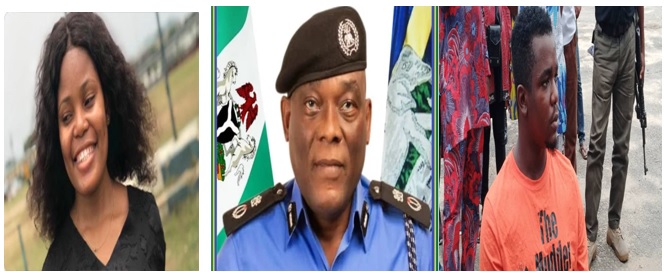 After months of denial and cover-up, the Akwa Ibom State Police command has admitted that Emem Emmanuel was an accomplice to the murder of the job-seeker, Iniubong Umoren.
Mr. Emmanuel, who is the son of a prominent pastor of The Apostolic Church, was arrested at the Ewet Housing Police Station on April 30.
He was later transferred to the state police headquarters, Ikot Akpan Abia where he was held alongside the self-confessed killer, Uduak Akpan and his dad.
During several interactions with the media and the public, the police never said anything about Mr. Emmanuel even when they had evidence that he connected Miss Umoren to Mr. Akpan, who later raped, assaulted and killed her.
But in a new investigation, this newspaper found out that Mr. Akpan, his dad and Mr. Emmanuel had been transferred to the Nigerian Correctional Centre in Ikot Ekpene Local Government Area.
The trio where held in custody for several weeks at the state police headquarters in Ikot Akpan Abia, located in the outskirts of Uyo.
Mr. Akpan, who was keeping a well-groomed afro hairstyle and looking well-fed when paraded by the police on May 14, was spotted at the correctional centre last week with a clean-shaven head.
A top security source in Uyo had confided in this newspaper that Mr. Akpan, his father and Mr. Emem Emmaneul were transferred to Ikot Ekpene about a week after he was paraded before newsmen.
The source did not, however, say whether a court order was obtained before Mr. Akpan and his father were moved to Ikot Ekpene Correctional Centre.
This is because courts were shut down at the time due the nationwide industrial action embarked upon by the Judiciary Staff Union of Nigeria (JUSUN).
JUSUN, which had ordered its members to go on strike to demand the autonomy of the judiciary, only called off the action on Tuesday, June 16.
The Police Public Relations Officer, Odiko MacDon, did not only confirm the remand of Mr. Akpan and his father, but for the first time, admitted that Mr. Emanuel was an accomplice to the crime.
Mr. MacDon spoke to this newspaper on phone on Thursday.
Before now, neither the state Police Commissioner, Andrew Amiengheme or Mr. MacDon agreed that Mr. Emmanuel was complicit or arrested for the crime.
The duo had told journalists that Mr. Akpan operated alone and that no accomplice was found in the course of their investigation.
Mr. Emmanuel was not paraded when the police brought out Mr. Akpan and his father to speak to reporters.
These fresh revelations come just as this newspaper stumbled on fresh evidence to show that Mr. Akpan has been in the business of job scam, rape and possible murder many years before his arrest on April 30.
In an exclusive interview with our correspondent, another victim, Edodiong Esenudo (not her real names) recounted how she survived the rape, assault and murderous tendencies of the 20-year-old undergraduate scammer.
Mr. Akpan, a student of Obong University had come to notoriety on April 29, after he lured, raped, assaulted and murdered Miss Umoren in a compound suspected to be a human slaughterhouse along Airport Road in Uyo.
In an earlier report, this newspaper had stumbled on evidences indicating that the police not only compromised the investigation into the jobseeker's murder but lied several times to cover up aspects of the crimes.
The police did not challenge any of the points in which the Next Edition accused them of compromising investigation, lying, destroying critical evidence and covering up many aspects of the crime.
READ ALSO: INVESTIGATION – Iniubong Umoren: New Evidence Shows Police Mishandled Case; Another Victim Speaks Out
Another disturbing account from a victim
Around 2017, when Mr. Akpan was barely 16 years-old, Miss Edodiong had just completed her National Diploma (ND) programme and was desperately looking for a job.
"I spoke to a few friends and people I never knew. I made contacts both online and off line just to find anyone who could help me," she recalled.
Boom! A man who identified himself as Ezekiel Akpan contacted her on Facebook and offered to give her a job.
Apparently, to boost her confidence, she said the strange helper said he worked with ExxonMobil, adding that he would use his dad's connections to get her into the company.
"At that time, I was very naïve and I was desperate. At the sound of ExxonMobil I was amazed and I thought how possible was it for a boy, who at that time would have been less than 17 years-old, to work in ExxonMobil?
"He told me that his dad is very wealthy and that he wants to use his dad's influence to get me in and I said no problem. I spoke to my mum about it. It was only my mum that was aware," Miss Edodiong said.
A few days after their initial conversation, she said Mr. Akpan asked her to come from Calabar, Cross River State, where she lived with her mother to Uyo to submit her credentials for the promised job.
She insisted on scanning and sending her credentials to him and after they argued for a while, he obliged and she immediately forwarded the required document to him.
"A week later, he called me and said that they are requesting my ID card and that I should bring it. I asked him instead of travelling from Calabar to Uyo just to bring my ID card, let me scan and send it like I did with my credentials but he said no.
"After a long argument, I decided to discuss with my mum about it. I told her I was going to Uyo to present myself. I didn't think of anything. I was just very positive and thought he just wanted to help me.
"It was on a Friday that I travelled to Uyo. I left very early because I was timing myself so that once it's about 2pm, I should be heading back to Calabar.
"When I got to Uyo, I called him and he said I should come to Ibiaku along Oron Road. I remember that place vividly. When I got to Oron Road, he directed me and I took a bike (commercial motorcycle) to the village," she said.
On arrival at what was supposed to be an office, what she saw was an uncompleted building with a "Beware of Dogs" sign on the gate and very busy construction workers all over the place.
In spite of the doubt she nursed, her desperate need for a job would not let her obey her instincts which was warning her to run.
READ ALSO: Law To Give 40% Of N/Assembly Seats To Youths Underway, Says Omo-Agege
Mr. Akpan told her he was off duty and merely came to the site to see how work was progressing in his dad's new mansion.
Continuing, she said, "He kept me till about 5pm before he started asking me strange questions. The first question was whether I know what Rosicrucian means. It was the first time I heard that word. I told him I don't understand.
"I was beginning to be very scared. Next, he told me he wanted to show me something on his phone to read and see if I would understand. He started telling me some more strange things.
"I told him I wanted to go back. At that time, everyone was gone and it was just the two of us remaining there and it was already 6pm. Before I knew it, he locked the gate.
"There was a security post there and he asked me to go inside the room. I asked him why we were going inside and he insisted I go inside. I knew I couldn't fight him and so I went inside. I didn't know if he was armed.
"As I went in, he asked me to sit on the floor and I did. He then asked me to undress and I asked him why? He brought out a small knife and told me he is a cultist and that he was told to kill me.
"I undressed and he raped me. I was screaming and he said no matter how I screamed, no one would come to help me and then I started pleading with him. I told him I am a Jehovah Witness.
"I don't know what touched his heart because he told me to dress up and I did. He told me to wait for his driver to come and pick me to the park. I told him not to worry and that I can find my way.
"I asked him to just give me my credentials and everything he collected from me because he was them. I told him I don't need the job again," she recalled.
At about 7pm, Mr. Akpan finally got a tricycle and followed her to Itam Regional Motor Park and waited till she boarded a Calabar-bound vehicle.
While she was held hostage and raped, her phone was seized by her captor and every attempt by the mum or anyone to get to her were aborted.
"We used a tricycle right from Ibiaku and he waited till I entered a Siena car and left for Calabar.
"Since then, I have been receiving threats from him. He said since he didn't kill me, his people are on his neck and that I should either produce someone to be killed or come back.
"The pressure was too much and I didn't know who to talk to. My mum does not know about it till today. I can't imagine telling my mum that I went to submit my credentials to someone and was raped.
"I only spoke to a few friends and they advised me to let go. I have been struggling since then with the trauma. It hasn't been easy but I have been praying to God for him to be exposed.
"When I saw a post about Iniubong Umoren, I immediately knew it was him because I was a victim and there is no way I would forget that face.
"Even in the next five years, there is something about him that will make me remember him. He has full hair and he is very hairy and has dark skin and was very young at the time. He might have been 17 years-old at the time," Miss Edodiong said.
More scary revelations by local youth
During an undercover visit to Nung Ikono Obio, the village where Mr. Akpan and his family perpetrated the heinous crimes, neighbours gave chilling accounts of findings they made in the compound.
While many described the self-confessed murderer as "Easy-going, harmless and mostly detached except when he comes in with his friends most of which are female," not one of the youth believed Mr. Akpan could hurt anyone.
But the young man, whose name "Uduak" literally means "Will" was not only willing but admitted to assaulting and raping six girls including Miss Umoren whose deadly encounter led to his arrest.
Neighbours and commercial motorcyclists disagreed with the number of girls he admitted to have raped, saying he might have raped and killed more women over the years.
They revealed how unknown persons came and set fire on heaps of credentials, clothes and shoes that littered some of the rooms in the compound, apparently to destroy heaps of evidence.
The youth also insisted that so many people including school children might have been killed, adding that if the compound is excavated, a lot of human remains will be found.
"He wasn't burying people with their full bodies. He cut them into pieces, put them inside a bag and buried them. There is a bigger grave where he buried a full human body. It is here.
"After burying people in a bag, they dig up the bones. All these places you see here are shallow graves. People came here to dig out human parts.
"Every place he has planted a tree here is a grave. It is not one or two or three persons. They are so many people buried here that he (Mr. Akpan) himself cannot tell the number.
"We had removed so many bones and heaped them somewhere here but it seems people have come to pick them. There was one very big bone we found here. Look at this small bone. It looks like the bone of a child.
"Do you see this bag? Somebody was cut into pieces and buried in it. He buried the remaining body parts after selecting the parts he needed. All these trees are planted on the graves of people," a youth who gave his name as Udo said.
Our correspondent learnt from neighbours that about two weeks after the crime scene was discovered, some Hausa youth came there and took away human bones and rods from the compound.
The police confirm remand
The PPRO who spoke with this newspaper on the telephone said those arrested in connection with the crime have been remanded in prison custody.
"The case file has since been forwarded to the director of public prosecution and we are awaiting advice from the DPP," Mr. MacDon said.
"We may be charging them to court any time from now. All of them have been moved to the correctional centre for remand."
Asked whether Mr. Emanuel who allegedly connected Miss Umoren with Mr. Akpan was still being held in police custody, Mr. MacDon responded, "All of them including Emem Emmanuel have been moved to the correctional centre."