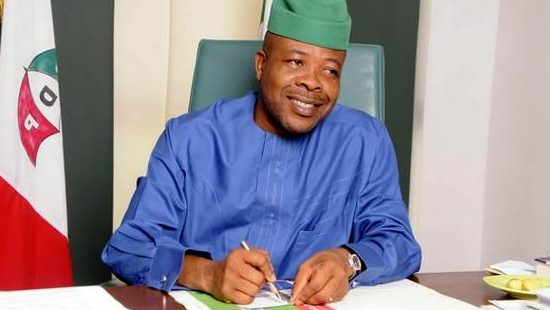 Gov. Emeka Ihedioha of Imo has constituted visitation panels for the Imo State University, IMSU, and the Imo State University Teaching Hospital, IMSUTH, Orlu.
The Chief Press Secretary to the Governor, Mr. Chibuike Onyeukwu, stated this in a statement issued to newsmen in Owerri on Wednesday.
Onyeukwu said that the appointment was in line with the governor's resolve to sanitise and reposition tertiary education in the state for greater efficiency.
He said that the IMSU visitation panel, to be headed by Prof. Chinedu Nebo, would have Prof. I.K Ogbonnaya, Prof. Basil Nwosu, Prof.
Florence Nduka, Prof. N.F Ukaigwe and Prof. Dominic Chima, as members.
Other members included Dr. Chilaka Nwankwo, Mr. Chuck Chukwemeka, Dr. Chineze Obi and Mr. A.C. Duru, as Secretary.
He also said that IMSUTH panel would be headed by Prof. Frank Akpuaka, with Prof. Theodore Okeahialam, Prof. Peter Akah and Lady Stella Achunine, as members.
Others were Dr. Meg Opara, Dr. Emeka Iroegbu, Mr. Basil Ngobiri, Dr. Kenneth Iregbu, Mr. Ekene Bob-Ekechukwu and Mr. Leo Chimezie, as Secretary.
READ ALSO: Gov Fayemi Finally Speaks On FUOYE Crisis, Tells CP Fish Out Killer Cops
According to Onyeukwu, the panels would, among other things, identify the strength and problems of the institutions and make appropriate recommendations to the Visitor.
They would also ascertain the operations of various departments and units and ascertain the operations of the institutions and investigate students' complaints.
They are also to conduct internal audits aimed at ascertaining the financial status of the two institutions from 2012, including Internally Generated Revenue, the university micro finance bank and come up with a comprehensive report.
The panels were also saddled with the responsibility of investigating award of contracts in the university and ascertain if due process was adhered to, in line with the Procurement Act 2017.
The statement further stated that the panels would investigate the state of infrastructure, including collapsed or collapsing buildings, in the institutions.
Other responsibilities were to investigate the appointment of the Vice Chancellor to ascertain if it was in conformity with due process.
The panels would also ascertain the welfare of students and investigate allegations of sexual abuse, extortion, issues bordering on allocation of hostels, sub-standard books, handouts, Students Union Government election and illegal payments.
They were mandated to capture other issues not listed on the terms of reference and forward their report to the Visitor not later than one month after assumption of duty.
NAN