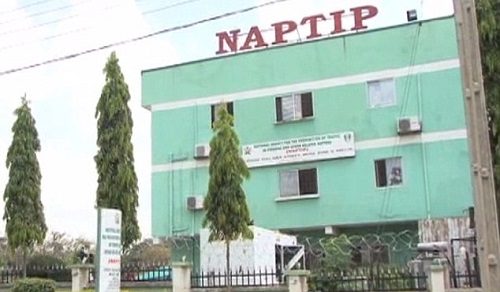 The National Agency for the Protection of Trafficking in Person's, NAPTIP, has raised an alarm over the upsurge of trafficking cases in Benue as the the Command has rescued a total of 45 victims, and nabbed three suspects in the month of January 2022.
The Commander, NAPTIP, Makurdi Zonal Command, Mrs Gloria Bai, raised the concern in a press statement on Wednesday.
Mrs Bai stated that it was very important for the society, especially parents, to be on the alert at all times for the safety of their children.
She particularly noted that the yuletide seasons is the peak period for crimes related to Human Trafficking in Nigeria.
According to her, most traffickers return home during the yuletide period to recruit lots of youths especially girls to be taken to other parts of Nigeria as well as neighbouring African countries for various forms of exploitation.
She noted that NAPTIP Makurdi Zonal Command has in recent times witnessed increased reportage in cases of trafficking expressing joy that with the cooperation of relevant agencies, the Makurdi Zonal Command of NAPTIP has made series of arrests and rescued a good number victims of trafficking this past week.
The statement read in part, "Following a tip off that some girls were in the process of being trafficked and were camped at Amaco Hotel in Gboko, we quickly shared our intelligence with the officers of the NSCDC and joined them on 4th January 2022 to arrest one suspect Mnena Kwaghgande (F) age 29 from Vandekya LGA, while six (6) victims were rescued, ages ranging from 16 to 20 years, they hail from Konshisha, Ushongo And Vandeikya Local Government Areas.
"On 7th January 2022 a distress call was put across to me (zonal commander) from Duku Motor Park Makurdi on a suspected case of human trafficking involving seven young girls who were to be taking to Lagos from Makurdi.
"We quickly moved to the scene and the suspect was arrested while the victims were rescued in collaboration with the Nigerian Police; this case involves one suspect MADAM BEAUTY OSAGIE (F) from Edo State. The victims were seven, 3 from Gwer East LGA, 2 from Gwer West, 1 from Guma and 1 from FCT.
According to the victims, another suspect (a Tiv lady) disappeared before the arrest was made, we are on her trail.
READ ALSO: Hard Work Key To Eagles' Victory, Says Iheanacho
"On 8th January, 2022, men of operation Zenda intercepted two Nezam buses in Gboko en route Osun state carrying a suspected Trafficker along with 32 suspected victims of Human Trafficking mostly underage children.
The suspect Angbiandoo Akaasema (F) and the 32 children are all from Ukum Local Government Area, 13 males and 19 females. The suspects and children are presently in our custody for further investigation.
"At the moment, we have a total number of 45 victims from these recent cases at our command office.
"All the victims have been sheltered at the command where we separated the males from the females and we trying our best to counselled, feed, provide basic needs including medical and psychosocial support while we trace and reunite them back to their families and the 3 suspects are also detained at the command."
The Commander called on all citizens and residents of Benue State, motor park owners and transport operators to be vigilant, look out for suspicious travellers and report to NAPTIP using hotlines 627, 09155755219 and 07030000203 or text to *627#.