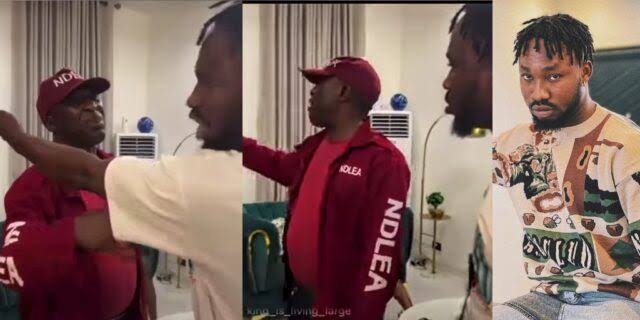 Popular Nigerian comedian, DeGeneral, has had his residence invaded by the officials of the Nigerian Drug Law Enforcement Agency (NDLEA).
It was reported that the officials invaded his home at midnight, January 11, 2022, and assaulted the comedian and his friends.
READ ALSO: Shonekan Will Remain On Good Side Of History – Lawmakers
In a video spotted on social media, the officials were seen beating the comedian following his decision to record the invasion.
His colleague and activist, Mr. Macaroni took to his Instagram stories and Twitter on Wednesday, January 12, 2022, to call the agency out on their actions and to lament about how being a Nigerian youth gets you oppressed.
He wrote, "NDLEA!! OLEEE!! Barawooo!!!!! So you people's work is to be entering people's houses in the middle of the night to be beating and harassing citizens. This is happening right now. We dont know where they have taken him to…Oppressors everywhere."