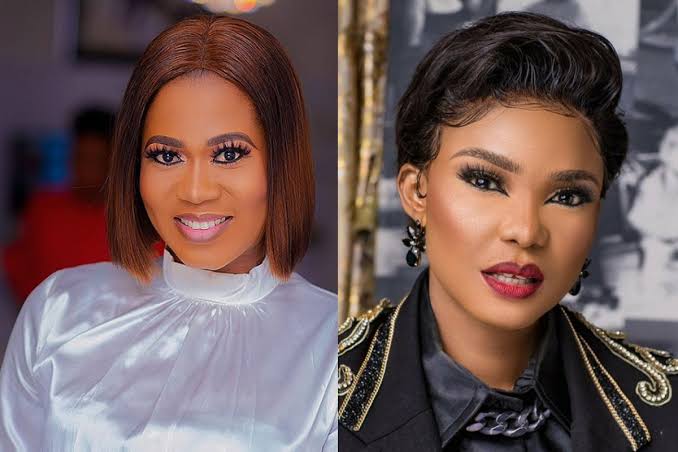 The former personal assistant to Nollywood actress, Iyabo Ojo has taken to her Instagram page on Wednesday, June 16, 2021, to slam the movie star.
According to the lady identified as Valentynoh on Instagram, she claimed the actress openly beat her and humiliated her at the slightest opportunity even while giving her best for the 14 years she worked for her.
READ ALSO: JAMB Releases 2021 Mock Result – Official
She also denied the accusations leveled against her by the actress.
She warned her to stop calling her name and told her to fix her mess with everyone.
Her lengthy post reads, "LOYALTY TURNED SLAVERY !!!
"I hear u say u took me like a daughter n I almost ruined ur business, hmmmmmm. A daughter sha, business sha.. 😄🤣😂😀😃. A daughter u openly beat n humiliate @ d slightest opportunity, a daughter who did u no good 4 14yrs, u're d only sacrificial lamb. Business [email protected] we both know what's up, business I gave my best bt 2u I didn't do jack. U claimed I took ur money, you&I know [email protected] @ that time, U had no kobo na package we dey package.
"Some of us are wired properly so we know how to tame our mouth even in a fit of extreme anger becos eyin lohun, to ba ti jabo, ko shey ko…. Let God b d judge btw u&I.
It's almost 3years n u still wouldn't let go : shey nkan mi wa nibe ti e ko so:: pls leave me alone, let me live my life, keep my name out of ur mouth; ebé lánbè osiká . Keregbe to fo, deyin leyin odo 🎶 🎼
Fix your mess with everybody ma'am!!!! Iré o🥂
#moboluwa duro#