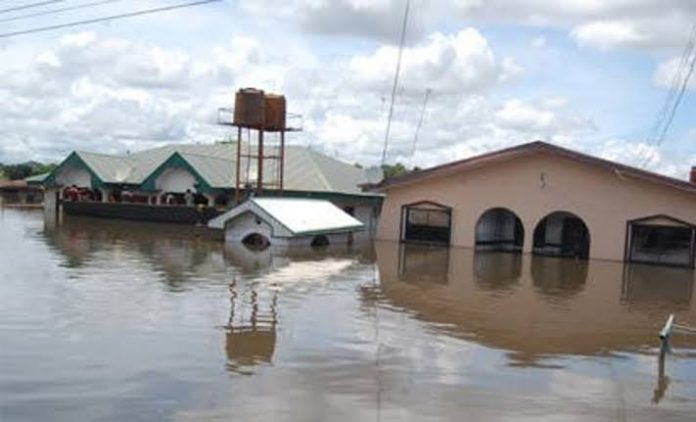 Heavy rainfall in many parts of Delta State has destroyed several houses especially in Warri, Uvwie , Kwale, and Ekurede Itsekiri Communities.
While residents in the affected areas are currently living in fear, the state government through the Commissioner for Bureau Special Duties, Mr. Omamofe Pirah, on Wednesday ordered the relocation of the residents.
Mr. Pirah warned that the state government would not take responsibility for further disaster if on the contrary they refused to vacate the areas within two weeks
Pirah who spoke to our Correspondent in Asaba on the decision of the state government, said that the development was occasioned by the approval given by the state Governor, Mr. Ifeanyi Okowa, to clear existing waterways in the affected communities to avert further disaster in the ongoing flooding menace.
The Commissioner said "I can tell you that the state Governor, Mr. Ifeanyi Okowa, has approved the Ministry of Environment to come into Ekurede Itsekiri Community, others and clear the waterways, and in doing this, anyone who has a structure on the waterways or the water channels deliberately or other wise built on waterways, such structure will be removed, the state government however sympathize with those whose houses have been destroyed in the flooding menace and we are looking into ways on how they can be repositioned and ensure good lives for them."
READ ALSO: Flood: Delta Approves Drainage For Warri, Effurun
It was gathered that apart from houses destroyed in the affected areas, economic crops were not left out as virtually all their farm crops were swept away by the flood that was accompanied by thunder and lightning for three days consecutively, starting from Sunday till Wednesday.
Although, no life was lost, residents of the affected areas are yet to recover from the devastating impacts of the flooding.
Meanwhile, the state government through its Emergency Management Agency ( SEMA) has presented relief assistance to victims of April 2020 rainstorm in Iyede Community, Isoko North Local Government Area of the state.
In his remarks, the Director of SEMA, Mr. Karo Ovemeso, said that Governor Ifeanyi Okowa deemed it necessary to respond swiftly and cushion the plight of the disaster victims, especially during the Covid-19 Pandemic, assuring that the state government would not abandon any of the victims but warned those who refused to relocate elsewhere on the dangers.