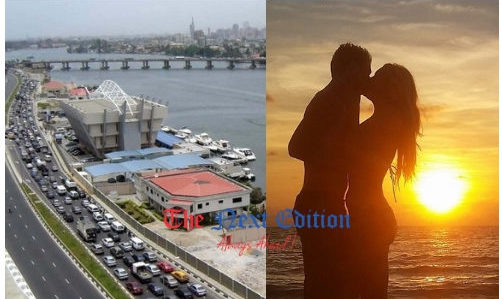 Do you ever wonder where the so called "good guys" are in Lagos? Or where exactly one can meet them? It is not easy finding love or even keeping the love when you find it in Lagos.
Sometimes you read love stories on how couples met each other at some place in Lagos, but where exactly? Having stayed in Lagos for more than six months now, I feel like I have been going to the wrong places because I'm just not finding the right, cool guys.
This brings me back to when BankyW sang his "Gidi Love" song about looking for true love in Lagos before he got married. Is it that scarce?
Well, it doesn't seem like I'm the only one complaining about this, some people around me ask these same questions.
The hustle and bustle in Lagos doesn't give you enough time to actually get to meet new people, one moment you are rushing for work and the next moment you are inside traffic for hours!
How about the weekends? You just want to really rest and rejuvenate for the coming week or perhaps laundry and groceries shopping. At this point, you might just remain single for a very long time!!!
Now let's talk about some of the ideal places you can meet your love interest in Lagos.
Attend Weddings and parties : If you have lived in Lagos for some time now, you can attest to the fact that they don't joke with ceremonies like weddings, birthdays and the rest. These places are top on the list of places to meet single men/women. Most people actually attend weddings to look out for people they could interact and hook up with. Try and accept wedding/party invitations from friends, especially when it is from people of good reputation. Be sure to look great and approachable, interact with people and keep a good smile on.
Go the Gym!
Most people in Lagos are now very fitness conscious and spend quality time at the gym. If you have a gym centre around you, try and register now.
READ ALSO: The 17 most common mistakes people make early on in relationships
Technically, you will be basically killing two birds with one stone: you get to exercise your body and also get opportunities to meet someone that might interest you.
Tips: Don't forget to opt for attractive but decent sports wear.
Have You Tried Churches?
You should leave the comfort of your home and head to church. Not just to worship God, but also to interact and mingle with people. You never can tell, you could meet some good man/woman and what better way to meet the love of your life other than in the presence of the lord? The best thing about this is that you get to meet someone who shares the same faith as you. There are a lot of good churches in Lagos that you should visit.
Location on Social Media:
If you are too busy to go out, then you might as well indicate "Lagos" as your location on your social media handles. These days, so many people meet their life partners through social media and it works perfectly well. This is the easy one, you don't need to worry about creating time to go out, just be sure you are chatting with the right person.
Finally, let's make the effort to meet new people this year. Like some African mothers will say, "Husband or wife won't come and meet you in the house" you have to go out, mingle and interact with responsible people.