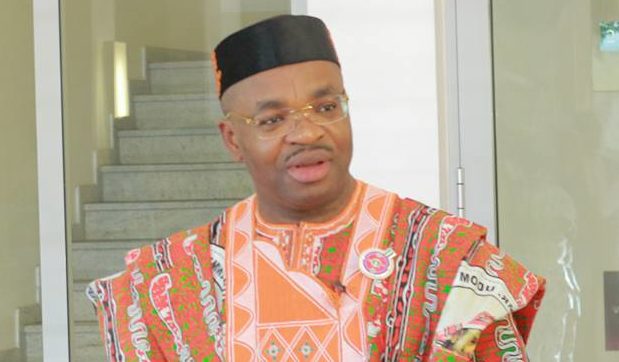 Incumbent Governor of Akwa Ibom State, Udom Emmanuel has dedicated his victory at the just concluded Governorship and State House of Assembly elections to God and to the Ibom people.
Mr. Emmanuel stated this in his thank-you-speech after his re-election for a second term in office at Government House, Uyo.
Mr. Emmanuel who acknowledged that the election was hard-fought said "but God gave us the victory and I hereby dedicate this victory to Him ALONE and, of course, you my dear Akwaibomites.
He called on those who contested against him and were not successful, to join hands with him to build the Akwa Ibom State of their dream; an industrialized state where education, healthcare delivery, food sufficiency, peace and security, infrastructural renaissance, foreign investments would remain abiding articles of faith.
"Yesterday, you went out to the polls and again reaffirmed the supremacy of God in the affairs of our lives. While others put their trust in the weapons of violence and destruction they had fashioned against our people, and had openly boasted of the invincibility of their Federal might, we put our trust and faith in the ONLY God we know and worship. The ONLY GOD who never disappoints. And He did not disappoint! To Him alone, we give thanks, glory and adorations.
"Let me on behalf of my wife, Her Excellency, Mrs. Martha Udom Emmanuel, thank you my dear people from the bottom of my heart for reaffirming your faith in my capacity to continue to superintend over the affairs of this God's own piece of Royal Real Estate."
Mr. Emmanuel commended the Akwa Ibom people for the peaceful manner in which they went about exercising their civic responsibility.
He said "You refused to be shaken or cowed by those who thought they could bend your will; you refused to be intimidated by those who promised Armageddon and war on our people. You proved that the army of God can never be defeated by the army of man no matter the size. You deserve our eternal gratitude.
"If we were able to achieve so much in the last almost four years which have been the years of lean resources, my prayer is that in the next four years which we hope would be the years of plenty, we will continue to judiciously appropriate the resources to impact lives, change our story and move Akwa Ibom to such enviable height of prosperity and growth that would be the envy of the nation and indeed the world."
READ ALSO: Breaking: INEC Declares Emmanuel Winner of Governorship Election in Akwa Ibom
He expressed the confidence that if California, a State on the West Coast of the United States could be the 6th largest economy in the world, "I think with the fresh mandate you have given me, we will work harder to make Akwa Ibom State a major economic power in Africa. Your fresh mandate has fired me up; the passion to do the most for our people remains right and uplifting. We will not fail you."
According to him, the people of Akwa Ibom already have all they need to be great; a changed mindset, thanks to our Dakkada philosophy, great talents and a propelling desire to be successful.
He further praised the youths for embracing an ownership culture and the need to use the works of their hands and their creative instincts to create wealth for themselves.
He urged them to continue to maintain the peace so far enjoyed, in the state, to show love to their neighbours as they get ready to start the second term.
Emmanuel, who promised to run an inclusive government said "Let our minds be conditioned by the immortal words of the 16th President of the United States, Abraham Lincoln who in his famous Second Anniversary speech after a bitter Civil War had promised to run a government "with malice toward none, with charity for all, with firmness in the right as God gives us to see the right."
He prayed God to bless Akwa Abasi Ibom State and Nigeria and all Nigerians.