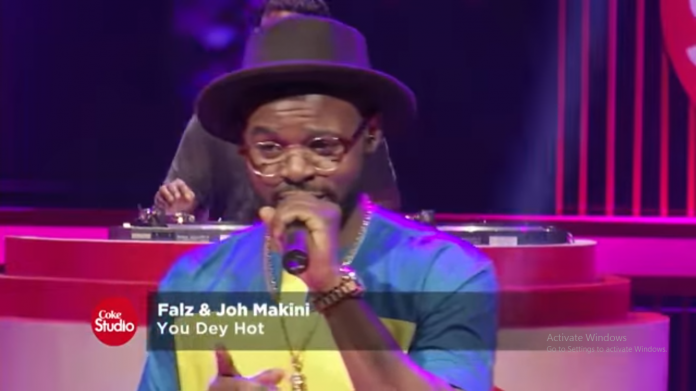 Top Nigerian artiste, Falz, famed for hits like "Jeje", "Soft Work" and "Soldier" returns to Coke Studio Africa for a second time this year.
He is paired with Ugandan legendary artiste, Bebe Cool, who makes his anticipated debut on the show this year.
Last year Falz was paired with Tanzanian rapper Joh Makini and the two produced dope covers of each other's songs and an original track "You Dey Hot."
While speaking exclusively at the show's Behind the Music Studios in Nairobi during the show's recording, Falz said: "It feels very good to work with Bebe Cool. He is a very cool and chill guy. So far, we have a good working relationship and we are getting along well. I am looking forward to learning more from him about his culture and language– that's what is most exciting about the Coke Studio experience."
On top of the music collaborations, the two will also participate on Coke Studio's Food Culture Exchange segment.
Falz and Bebe Cool will be produced by top Nigerian music producer GospelOnDeBeatz.
On his collaboration with Bebe Cool, Falz revealed: "Bebe Cool is a huge dancehall artiste and I am a hip hop artiste so that fusion is going to be electric! Expect a lot of fire!"
Both Bebe Cool and Falz will also feature in a special Coke Studio dubbed 'The Global Fusion Edition' alongside Coke Studio Africa's international guest star – the American Pop/R&B star Jason Derulo and 8 other talented African stars.
They include Dela (Kenya), Mr. Bow (Mozambique), Joey B (Ghana), Betty G (Ethiopia), Jah Prayzah (Zimbabwe), Shekhinah (South Africa), Locko (Cameroon) and Denise (Madagascar).
This year Coke Studio has merged Coke Studio Africa and Coke Studio South Africa into one—bigger and better Coke Studio Africa 2017.
The show promises to be a melting pot of music talents bringing together renowned music producers and top-notch artistes drawn from various parts of the continent. ​
The merger increases the number of participating countries to 16, up from 11 in previous edition.
The Nigerian multi-talented artist Falz is also a comedian and actor and undoubtedly one of Nigeria's most talented music exports this decade.
Clinching a BET Award and an African Magic Viewers Choice Award, two coveted awards in African music and film industry, is show enough for his diverse talent.
Falz's trademark sound is funky and cool, paired with pop and street vibes.
His rap style is a fusion of witty lines, local dialects and comedic tones, setting him apart from his peers.