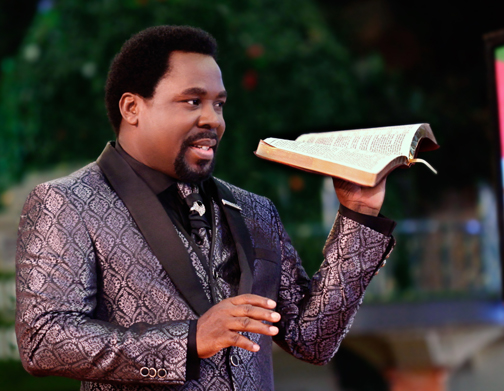 The Christian Association of Nigeria (Youth Wing) on Thursday called on the Federal Government to probe the attack in the building of the Synagogue Church of All Nations in Ikotun-Egbe , Lagos and the recent incident on House on the Rock in Abuja.
The organisation said it had uncovered, through intelligence reports, desperate plans by the administration of President Muhammadu Buhari to silence Christianity and turn the entire country to an Islamic state.
The attack on SCOAN took place on September 12 2014, when its Founder/General Overseer, Prophet T.B. Joshua, was delivering a sermon.
The national President of YOWICAN, Engr. Daniel David Kadzai, raised the alarms at a press conference in Abuja entitled "CLASSIFIED INTELLIGENCE AVAILABLE TO US CONFIRM A GANG-UP TO SUBMERGE, SUBDUE AND POSSIBLY WIPE-OUT CHRISTIANITY FROM NIGERIA."
The text of the press conference reads:
"This Intelligence further indicates that attacks such as the mystifying collapse of a major building of the Synagogue Church of All Nations (SCOAN) in Ikotun Egbe, Lagos State on the 12th of September 2014, the aberrant fire of the House on the Rock Church in Abuja on the 25th of June, 2017, the unobtrusive removal of the subject – Christian Religious Knowledge (CRK) from the curriculum of the Nigerian educational system, the killings in southern Kaduna this year, the attack this week on a pastor of the Evangelical Church Winning All (ECWA) serving under Keffi District Church Council (15 Kilometers from the Federal Capital Territory Abuja) and the most recent one yesterday,  the 28th of June 2017 bombing of the Missionary Hospital in Borno State all indicate the verisimilitude of this intelligence.

"Further public outcry made by some influential Christians in Nigeria (most especially Mr Femi Fani Kayode) regarding what we saw in the past as mere "accidents" confirm our intelligence and presents a clearer picture which is most disturbing, that most of these happenings where not mere "accidents" after all.

"The Youth Wing of the Christian Association of Nigeria (YOWICAN) and the entire congregation of Christians in Nigeria conclude therefore that there is a conscious and vehemently sustained move to submerge, subdue and systematically exterminate the existence and sustainability of Christianity and Christians in Nigeria.

"We wish to emphatically make this point clear, "that we are not naive of these machinations and that the time of political correctness, where such matters when known were swept under the carpet and played as low as possible is over".

"YOWICAN with this statement wishes to draw the attention of the public in Nigeria as well as the international community on this development which we in the past thought were mere attacks or calamities lacking coherent sequence.

"In the same vein however, this statement is also meant to inform both the  perpetrators  and sponsors of these heinous schemes (religious fundamentalists and their sponsors who we now known are some highly influential countries of the world), that the Christian community is fully aware of their strategic plans and are watching closely to further bring to further clarity, their intents.

"It is in this same vein that YOWICAN calls on the government of Nigeria to mobilise as a matter of urgency, all it's law enforcement and diplomatic apparatuses for the purpose of further investigating the matter, beef-up security and begin enquiry and ascertain their position on the matters raised here whilst also using and effectively engaging their benefit of "state power" to probe most of these countries and groups who are involved in these crimes against the Christian community in Nigeria.

"From a national security perspective however, we believe that any systemic plan aimed at submerging any religion in this country constitutes a threat to the unity of this country. YOWICAN wishes to again affirm, that it will keep a keen watch over the government of Nigeria to see how judiciously, it reacts to matters raised in this statement.

"Also, the Nigerian government should open-up investigations as soon as possible to ascertain the immediate and remote cause of specifically, the SCOAN building church attack, to bring those culpable of this heinous crime to this church to book and also come up with an appropriate compensation to SCOAN for the embarrassment and damage to both the image of this church and Christianity in Nigeria.

"Worthy of mention also, is the recent  outrageous approval by the Federal Executive Council (FEC ) the sum of N4 billion for the purchase of Metro Plaza in Abuja to be used as National Hajj Commission National Secretariat.

"Whilst emphasizing that we do not have a problem with any donations made to a religion outside Christianity, we wish to reiterate that we are skeptical as to why such huge sums of money would be  approved for a particular religion while Christianity has only received meagre financial empowerment.

"We understand this and have made a correlation between this donation and the aforementioned calculated scheme to quieten Christianity in Nigeria.

"Finally, we wish to make it clear that as a religion, known and practised in many countries of the world, and one that has track record of championing peace and respect of humanity and life as evident in the teachings of our Lord and saviour Jesus Christ, a religion that is known for selflessness, one that has helped reinvigorate nations and bring succour and hope to millions of people, Christianity and Christians in Nigeria refuses to be intimidated by any uncivilised conquest of any fundamentalist religious sect and their so-called sponsors.

"We demand a response to this statement by the government of Nigeria in the weeks ahead with a detailed response to reflect the following (1) what their findings as regards the matters raised above are and (2) what they have done or will do (using the privilege of "state power" in seeing to the stemming of such further embarrassments to our nation, our churches, Christians, and the religion of Christianity in Nigeria.

"May God bless and continue to foster the unity, peace and prosperity of Nigeria."