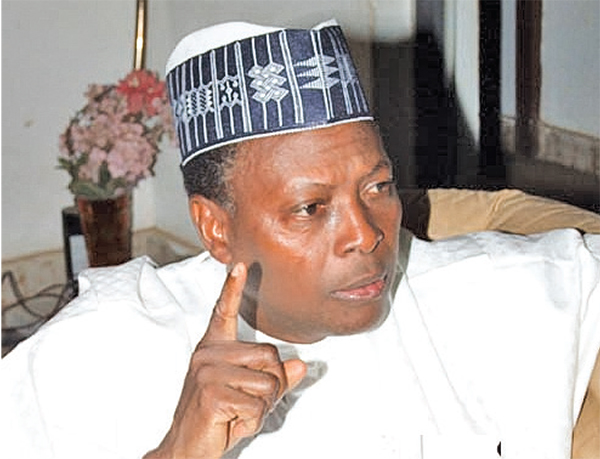 Eastern Union (EU), a political pressure group for the old Eastern Region, has described Dr. Junaid Mohammed as a confusionist who could not look into history objectively before making a public statement.
EU's response to Dr. Mohammed, the outspoken northern elite, was in reaction to recent statement, which he said that South-East politicians must prove that they could be trusted to use power well if power got into their hands.
Mr. Charles Anike, Eastern Union National President, who spoke to NEXT EDITION exclusively from his Abuja base on Friday, wondered how Mohammed could compare the lives of over three million Igbos massacred during the Northern-led civil war, to any number of (northern) leaders he claimed were murdered by the Igbo soldiers during a military coup.
Insisting that the Igbos' quest for the 2023 presidency was of right and not a privilege, Anike maintained that since Independence till date, North had been occupying the number one seat, even as he wondered what development they had brought to the country with the position.
Anike stated that Mohammed should understand that any remarkable and meaningful development being seen in the country today could be traced to the leadership of Southerners, even though their stay was usually short whenever opportunities were given to them.
To Mohammed, he asked: "Apart from political advantages and patronage, can he compare the Southern talents to the North in any field of endeavour?" adding, "The South, and the Igbos in particular, are well endowed with talented individuals that have a lot to offer."
Anike insisted that if the Igbos had the opportunity which the North had been enjoying, they would have transformed and made Nigeria an enviable place among the comity of nations, adding, "in the many years of Northern leadership, what do we have so far, bloodletting, waste, corruption, backwardness and more?
"One would have ordinarily expected an old man like Junaid Mohammed to show remorse for misgovernance by the North. Though we know that he is speaking for himself, because many well meaning Northerners have different opinions, he should know that Igbo Presidency come 2023 is right, as it has long been overdue.
"No other ethnic group has shown commitment and faith to Nigerian nationhood more than the Igbos. Since after the civil was, they returned to every nook and cranny of the country with their businesses and investments. So, what type of trust he, Junaid Mohammed, is talking about?"
READ ALSO: The Vituperations Of Junaid Mohammed
The Eastern Union (EU) boss stated that the recent Supreme Court verdict on the 2019 presidential election between President Muhammadu Buhari and Atiku Abubakar had finally put paid to the expectations of many Nigerians, who he said, had thought the apex court would have dismissed the presidential tribunal's ruling, which they saw as a sham, and either declare the Peoples Democratic Party (PDP) candidate winner, or call for a fresh presidential election.
Anike said the Supreme Court Justices, in their wisdom, ruled in favour of Buhari, a decision which according to him, was received by mixed reactions by Nigerians, as the only avenue of appeal is God.
He stated: "With this reality, it is time for Igbos across the divide to come together in pursuant of the 2023 affirmative action to present a consensus candidate for the presidency. The statement credited to Chief Emmanuel Iwuanyanwu recently during which he posited that Igbo Presidency in 2023 was not negotiable was a welcome development which should be supported by Igbo leaders and all advocacy groups both at home and in the Diaspora.
"The Eastern Union is fully in tandem with this line of thought. However, we appeal to all Igbos to shun individualism and greed and see this opportunity as the path to rebuild Nigeria and the Igbo nation, which has been marginalised since the civil war.
Anike, on behalf of the Eastern Union, called on Igbos to set the tone for realignment with other stakeholders in the Nigerian project to realise the 2023 presidential ambition, stressing, "It is those who are prepared that will benefit from the political arithmetic of 2023, hence, the need by Igbo leaders to show commitment to this cause because early bird catches the worm."
He described the Igbo nation as an industrious nation where commerce, science, arts were better imagined from the developed nation's perspective, stressing, "We have technocrats of the highest level in the world as well as sons and daughters that can raise their heads in whatever field of endeavour they find themselves in the world.
"There is therefore, no doubt that with an Igbo president, from the crop of highly talented thinkers in our midst, Nigeria will be a better country during our tenure. Eastern Union therefore, calls on Ndigbo to put their house in order because nobody wants to sleep under a leaking roof."
Anike stressed that the calibre of men and women already listed by his organisation, comprising politicians, technocrats and businessmen of high repute, it had become very clear that Igbos have good products to sell in 2023 Nigeria project.
He reiterated that Eastern Union had compiled names of some suggested possible candidates and had commenced consultations and discussions with many of them.
Some of the possible candidates, he disclosed, included Dr. Peter Obi, Sen. Dr. Chimaroke Nnamani, Sen. Orji Uzor Kalu, Sen. Dr. Sam Egwu, Dr. Peter Odili, Sen. Anyim Pius Anyim, Sen. Ike Ekweremmadu, Dr.(Mrs) Ngozi Okonjo Iweala, Dr. Ogbonnaya Onu, Sen. Chris Ngige, Sen. Rochas Okorocha, Sen. Theodore Orji and Chief Rotimi Chibuike Amechi.
Others possible presidential flag bearers, he added, are Chief Willie Obiano, Chief Ezenwo Nysom Wike, Chief Dave Umahi, Dr. Ifeanyi Okowa, Sen. Eyinnaya Abaribe, Dr.(Mrs) Oby Ezekwesili, Chief Ikedi Ohakim, Sen. Princess Stella Odua, Sen. Hope Uzodinma, Mr Tony Elumelu, Prof. Chukwuma Soludo, Prof. Kingsley Moughalu, Chief Dan Nwanyawu, and Mr. Oscar Onyema.