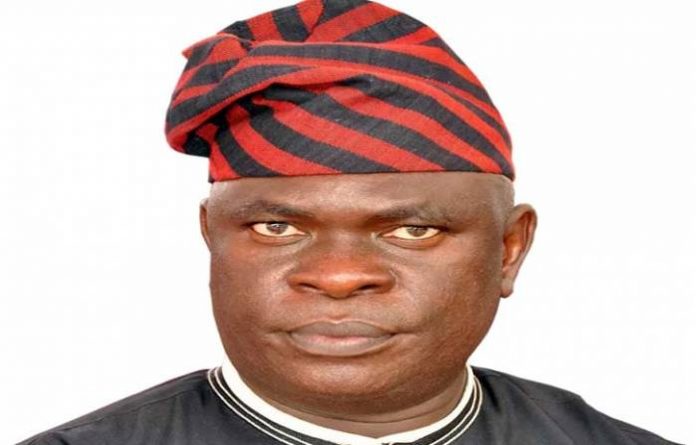 Mr. David Olofu is the Commissioner for Finance in Benue State and also the Chairman, Commissioners of Finance Forum in Nigeria. In this Interview with Dooshima Hir, he spoke of the effects of COVID-19 on revenue generation in Benue state, the impending recession and how prioritizing agriculture can save the country.
TNE: What is Benue state government doing to improve revenue generation of the state within this period of lockdown?
In shoring up our revenue, it is a very challenging time. Like you all know, revenues are driven by economic activities and commercial activities within the society. At a time like this when everything is shut down, those activities are part of everything that has been shut down. So, it is going to be difficult but Governor Samuel Ortom, in his wisdom and because of our peculiarity, has done a partial shutdown which means people can still move about within the day time.
Definitely the Internally Generated Revenue (IGR) will be affected and we are hoping that we will still be able to get some funds into the coffers of government but it is still early for me to know how much or the level of impact that will come upon the IGR of the state. It is until the figures come in from the end of the month that we will know how the lockdown has affected the IGR of the state. But what I can say for sure is that, definitely there will be an impact and that impact will be downward, that I can assure you.
It is against that background that Governor Ortom directed that we move to review our budget. That review is still a work in progress and it was tentatively approved by the state Executive Council and what we have done was to review it downward by 30.9 percent which amounted to 70 billion. We are processing that now to see how we can present it to the state Assembly. That became very necessary because, the governor, in his effort to operate a transparent accounting system, also needs to make sure that the deviation of the budget is also brought down within a manageable gap.
What I mean by that is the approved budget and the actual budget are two different things. So between the gap of the approved budget and the actual money that comes in, we are trying to make it as minimum as possible so that it will be moving towards a realistic budget because these are the things that will go to show that we are managing the economy in line with global best practices.
TNE: With the Coronavinus pandemic in the country, what has come in, in form of Palliatives to the state to cushion the effect of the pandemic?
The governor, right from the beginning of the pandemic had constituted a committee headed by the Deputy Governor, Benson Abounu. That committee is in charge of all the donations that have been made to the state and will be in a better position to let the public know what has come to the state and what has not.
READ ALSO: South-East Governors Not As Courageous As Their South-West Counterparts – Anike
In terms of palliatives, a lot of things are happening at different levels and we are still expecting the federal government to lead in this direction because the federal government is the father of all. It has more access to resources than the state level. But even at that, his Excellency, through this committee, is also doing some things to make sure that things are done at the local government level. He has also gone ahead to constitute the committee at the local government. I am aware that things like hand sanitizers and other items that will help reduce the spread have been distributed. I am also aware that Benue State Emergency Management Agency, SEMA, is also involved in distributing some food items to the less privilege and the poorest of the poor in the state.
Other information are with the committee.
At this point we are not providing direct cash to any individual in the state because we also have a lot of challenges regarding funding but we will continue to do the best that we can to make sure that the Benue people do not suffer unduly because of the pandemic.
TNE: In a lay man's term, what are we expecting in this recession because from the IMF projection, it seems this will bite harder than the previous ones. What do the masses need to do differently in order to feel less of this recession?
I will like to refer you to the basic principle of living and to look at our needs as human beings. Those basic needs are the needs to survive at a time like this. The point is that as a human being, in difficult times, the first thing you think about is food to eat. That is the most important thing in a situation like this and that is why His Excellency in his wisdom, decided that markets can be opened at certain times of the week.
We have also proposed to the federal
government to consider making farming as a special service within this period. For a long time, we have been making statements about diversifying the economy. I think there is no better time than now to practicalize those intensions. We have now seen that with what has happened, the only thing that matters is to have food to be able to survive. So, to that extent, we are advising the federal government to take bold steps and give agriculture the priority it deserves in this country. Basically, surviving these times requires that we have the basic things of life which is food and you ration this food in a manner that it will take you for a long time.
TNE: COVID-19 has crippled global economies and there will be a lot of job cuts. Many states are likely not to be able to pay salaries because of the dwindling income from the federal government. Are we likely to experience staff lay off in Benue?
(laughs) Thank you for creating that very very alarming picture, I was trying to avoid it. But for us as a government, our approach is to take the storm as it comes and we do not want to pre-empt anything because of the pandemic by way of saying this is what we are going to do. We do not even know the extent to which it will be. So, like I said, after some time, we will be doing further analysis of the impact. It is after we have successfully done that, that the Governor can now come out to tell the Benue people where we are and what we are going to do but before then, it is difficult for anybody to say that this is what is going to happen.
Before now, you are aware that since January 2018, His Excellency has lived up to his promise to make sure that at the end of every month, workers in Benue state are paid. It is a very difficult commitment to meet in the face of what we have gone through over the years but he has faithfully kept to that promise and I think we need to allow him the discretion to decide on what to do about this one. I am sure he will also call the people. When the time comes to talk to the Benue people, he will call them and let them know what has happened and how what has happened has affected the economy of Benue state and what to do to move forward.