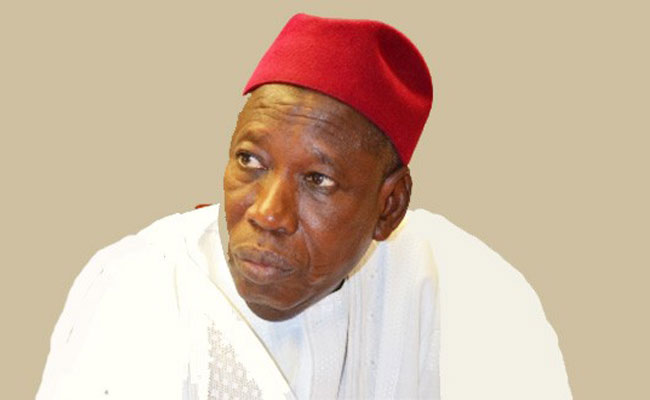 Kano State Governor, Abdullahi Ganduje has said that with the establishment of additional testing centers in the state, there may likely be a spike in the number of coronavirus infections in the state.
Ganduje stated this at a news conference organised by the state Task Force on COVID-19, on Friday at the Government House, Kano.
According to him, plans had been concluded to set up additional testing centres in the 36 far distant local government areas in the state.
He assured that the government would do all within its powers and resources to ensure the virus is defeated in the state.
"We must open more testing centres in the 36 distant local government areas. We will keep on planning ahead, we need to be proactive.
"We will make sure that all the institutions are put in place so that when the time comes, we will not be taken unawares," he said.
READ ALSO: Kano's COVID-19 Cases Hit 602 As It Records 26 New Cases
Ganduje also noted that his administration would encourage partnership with the Kano Against COVID-19, to enhance community enlightenment and other strategies in the fight against the pandemic.
He enjoined health workers to pay attention to other health challenges facing the people.
The governor disclosed that his administration had trained hundreds of health personnel to fight the Coronavirus and tackle other health challenges in the state.
In his own remarks, the chairman of the state's Task Force on COVID-19, Nasiru Gawuna, who is also the deputy governor of the state, harped on the imperative of testing, reminding the people that testing positive for COVID-19, was not a death sentence.
He also stressed the importance of strict adherence to instructions given by health professionals on how best to prevent the deadly pandemic.
Speaking also, the Coordinator of the Kano Response Team, Dr. Tijani Hussaini, lamented the non compliance of some of the suspected COVID-19 cases, who he said decline to divulge information on their status.
Hussaini said that the Task Force was challenged in the area of getting some of the suspected cases to go for testing and treatment during contact tracing.
According to him, some of the suspected cases outrightly denied contacts with infected persons or refused to divulge information on their health status.
Kano, meanwhile has recorded 761 COVID-19 cases.