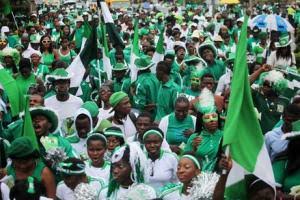 Peoples Democratic Party (PDP) chieftain, Chief Emeka C. Kalu, has said the Federal Government should put its axe together to tackle the Coronavirus pandemic in Nigeria.
Kalu, Director of Protocols, Peoples Democratic Party Youth Alliance (PDPYA), in a statement issued on Tuesday by his Media and Publicity Aide, Mr. Amos Kalu, described the Coronavirus pandemic as critical, especially as it had caused worldwide sufferings and economic hardship.
The PDP chief, also Director-General, Global Initiative for Good Governance, maintained that the period had become so critical that the government and its people need to shun partisanship so that the country would successful come out of the global challenge.
Kalu also commended his principal, former Vice President Atiku Abubakar, the 2019 PDP presidential candidate, for joining other well-meaning Nigerians to provide palliatives to vulnerable Nigerians who had been feeling the pangs of the unavoidable total lockdown to curtail spread of Coronavirus.
Kalu lauded the efforts of the President Muhammadu Buhari-led administration for its proactive actions so far to tackle the menace, especially in providing palliatives to citizens and emergency isolation centers.
He stressed: "These were signs that there is still hope for a better Nigeria of tomorrow, when we can rise up to challenge our challenges and put things right.
"I must commend the Lagos State government particularly for the vigour and determination with which it has confronted the Coronavirus monster, as well other states, including my home state government, Abia, which has left no stone unturned in the responsibility of protecting her citizens, especially the proactive measures taken by Governor Okezie Ikpeazu.
"Governor IKpeazu challenged the ingenuity of the Aba artisans, who are now mass producing PPE. This is sign of hope in the face of uncertainty.
"This is a sign that Nigeria can surmount any challenges facing us when we make up our mind and determine to tackle them headlong. I encourage that we don't let our guards now.
"Nigerians have shown sense of patriotism and love for one another by coming together of the strong to support the weak among us.
"This is a way of a progressive people with determination to move forward against all odds. Therefore, I encourage our citizens to continue to obey the government orders to the later as it is for the good of all."
READ ALSO: $22.7bn Loan: PDP Chief, Kalu, Laments Exclusion Of South-East
According to him: "This is not a time to be discriminative for any reason. I was shocked to learn that the ministers have successfully dished out N100 billion to indigent Nigerians hand-on-hand. I am marvelled because there can never be any guarantee of fairness using such crude methods.
"Nigerians vehemently called on the FG to support Nigerians through verified BVN because that could have been the only true way to ensure fairness and openness.
"There's no guarantee of transparency in the methods applied which proves that it is clear that government's concern is for only particular set of people because there is no way you can distribute money to all indigent Nigerians hand-to-hand when the country is on lockdown. That process made rubbish of the whole exercise.
"I am calling on government to adopt the right methods to distribute the latest loan to avoid few greedy men getting richer at the expense of the suffering masses.
"Money and materials should be extended to other states as well and not concentrated in a particular place when states like Akwa Ibom are crying for lack of fund to face confirmed cases.
"This is time to prove that Nigeria is one indivisible entity and not time to discriminate against anyone as had recently been the culture of this government."
He also called on the government not to be too fast in inviting Chinese doctors at a time everyone was suspicious of each other, arguing that Nigerian doctors had been working and proved their mettle in readiness and equal to the task of containing COVID-19.
"It is time we begin to put more confidence in our system by allowing our trained professionals to do the job they are trained to do without foreign interference. I see no morale behind the invitation at this point in time.
"Rather, government should channel their efforts to minding how to help Nigerian citizens, who are now being chased around by Chinese government, denying them any form of accommodation and food. Those are the core responsibilities of government to her citizens and not adding anxiety to their fears.
"Even back home, locking people down at home without food is a catalyst to bad revolt if nothing is done about it to assist them," Kalu added.
He advised Nigerians to be patient and law abiding in face of fear and harsh realities, assuring them that this time too, would come to pass.