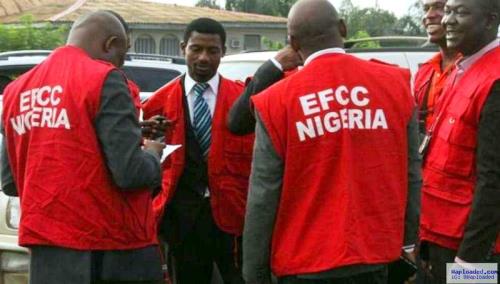 The Economic and Financial Crimes Commission, EFCC, on Thursday arraigned the alleged accomplices of social media big boy, Ismaila Mustapha, popularly known as Mompha.
Kayode Philip, alias Voice of the King, and a Lebanese, Hamza Koudeih, who were arraigned at the Federal High Court, Lagos on 25 counts were alleged to have engaged in cyber fraud and laundering the sums of $7.06 million, £1 million and €80,000.
They were also accused of attempting to retain the sums of $6 million and £1 million in the Bank of China.
Furthermore, the EFCC accused them of "knowingly engaging in computer phishing and spamming which resulted in acquiring sensitive information from various emails."
The duo were also said be in possession of electronic spamming tools such as MailListFetcher.exe; Tunnelier.exe; spamassassin.exe; Fast Email Extractor.exe; and AtomicMailSender.exe.
The anti-graft agency alleged further that Mr. Philip had illegal possession of various credit cards issued by JP Morgan Chase; Chase Bank of the United States of America; American Express; and Wells Fargo.
READ ALSO: Alleged N33bn Money Laundering : Mompha Remanded In Custody
The agency also said Philip procured Dakota Entertainment Limited and Influx Computer and Hardware Limited, for N11 million and N19.25 million, respectively from proceeds of fraud.
The alleged offences, according to the EFCC contravene the provisions of the Money Laundering (Prohibition) Act 2015; as well as Section 27(1)(b) of the Cybercrimes (Prohibition, Prevention, etc) Act 2015.
Both men pleaded not guilty to the charges.
Justice Muslim Hassan thereafter adjourned till December 5, for hearing of the bail applications brought by the defendants and ordered that they be remanded in the Nigerian Correctional Service ccustody.
Recall that Mompha was arraigned on Monday for alleged N32.9 billion fraud. He also pleaded not guilty and was remanded in the Nigerian Correctional Service ccustody.