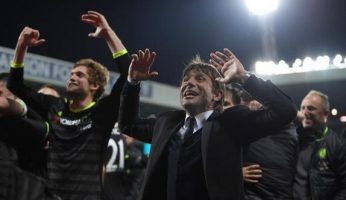 These are not the best of times for Antonio Conte and Chelsea fans as they lost their first match of the season. Chelsea lost in Stamford Bridge to Burnely knowing full well that their next fixture is Tottenham Hotspurs at Wembely.
Before the start of the new season, Conte reminded everyone of how two coaches were sacked the following season after winning league titles.
Jose Mourinho, former coach of Chelsea was dismissed after winning the Premier League title for Chelsea in 2014/2015. He was fired after a run of poor results in 2015/2016 season, which made Chelsea 16 on the league table.

Leicester City Boss Claudio Ranieri was also
sacked
by his club for a dismal performance just a year after winning the first league title in the club's history.
Conte fears the same fate may befall him this season after a run of bad games in the pre-season and injury concerns.
Chelsea played three games in pre-season and won only one against Arsenal, while losing the last two games to Bayern Munich and Inter Milan respectively.
The first competitive game was against Arsenal in the FA Community shield where Chelsea lost. To compound the woes of Chelsea, their star players such as Eden Hazard, new signing Tiemoue Bakayoko, Pedro Rodriguez, Victor Moses, Cesc Fabregas and new captain Gary Cahill are out of the squad due to injury problems and suspensions.
Another worry for Conte and Chelsea fans is that in a season when the team would have to compete in four competitions, the squad has become thinner. While other clubs have bolstered their ranks, Chelsea has lost key players.
Chelsea's top scorer Diego Costa has been told by Conte that his services are no longer needed at the club;< Nemanja Matic who played alongside Ngolo Kante has been sold to one of their league rivals, Manchester United, while Kurt Zouma, a very good defender has been loaned to Stoke City.
Based on the clubs history for changing managers with a snap of the fingers and that of Conte with previous clubs, bookies are putting their money on Conte as the first coach in the Premier League this season to leave, by either resigning or getting fired. The football world is watching.