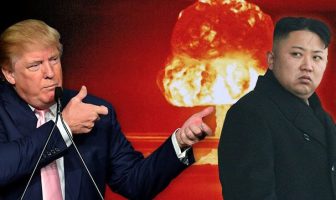 The Chairman of Leadership Group, Mr. Sam Nda-Isaiah, has called on China to mediate in the on-going face-off between North Korea and the United States of America (USA), saying not doing so could lead to catastrophic end.
Speaking at a reception organised by his media organization recently in Abuja for the visiting Chinese Vice Minister of Information, Mr. Guo Weimin, Nda-Isaiah, said if the two countries were not persuaded to back down on their threats and intentions, the overall impact may be too devastating for the whole world to bear.
He said it was necessary for China to intervene as neighbours and close allies in the interest of the rest of the world that would bear repercussions and impact of war that may result from the threats of the two world leaders.
Mr. Nda-Isaiah who said the hot exchange of words between the President of the USA, Donald Trump and his North Korean counterpart, President Kim Jong Un, called for concerns, and advised China to use its cordial relationship with the two countries to provide leadership to save the world from threats of war.
Read also: North Korea: Over 3.5m volunteer for People's Army as tensions rise against US
Responding, the Chinese Deputy Ambassador to Nigeria, Mr. Lin Jing, said China has always been on the part of peace and has called on the two countries to back down and seek peaceful solutions to the face-off.
Mr. Ling advised both countries to engage in diplomatic efforts to resolve their differences to avoid continued tension generated by threats and counter threats since the beginning of the crisis.
North Korea and the United States of America have been at loggerheads over Gwam. The problem started a day after North Korea announced that it would study a possible missile strike on the USA territory Gwam, a Pacific Ocean island that is home to large American military installation. In reaction, Trump had warned of catastrophic retaliation.
President Trump has also promised "fire and fury" for Pyongyang over its nuclear programmes. Recently, he said< "Military solutions are now fully in place, locked and loaded, should North Korea act unwisely. Hopefully, Kim Jong Un will find another path!" Trump tweeted.
The Trump administration did manage to get China and Russia's support for a unanimous 15-0 UN Security Council resolution recently, which aimed to take a billion dollars in exports away from the communist regime.