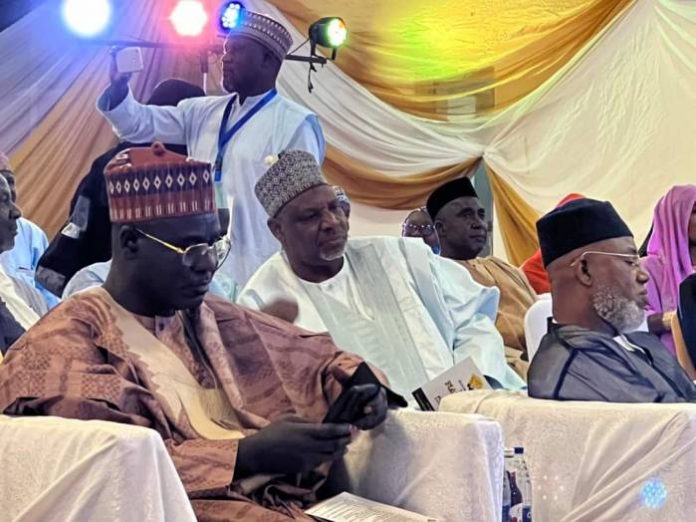 Former Chief of Army Staff, Brig.-Gen. (rtd) Tukur Burutai, has expressed concern over the high rate of cervical cancer in Nigeria.
Buratai raised this concern at the Public Presentation and Launch of a book titled: 'NADAMA', authored by Mrs Fatima Usara, Head of Public Affairs, National Hajj Commission of Nigeria (NAHCON), in Abuja.
The former army chief quoted Prof. Oliver Ezechi, the Director of Research at NIMR, as saying that an estimated 36 million Nigerian women aged 15 and above, are at risk of acquiring cervical cancer.
Burutai said that every day, 33 new cervical cancer cases and 22 deaths were recorded in Nigeria due to the disease, making it the second most common cancer amongst women in Nigeria and the fourth most frequent malignancy in women globally.
He also highlighted that cervical cancer was one of the major causes of cancer mortality among women in 36 countries, including Nigeria.
Burutai, who emphasised the importance of preventative measures, commended the author of 'NADAMA' for her efforts in sensitising people on cervical cancer and other health issues.
He urged Nigerians, especially parents, women and youths, to read the book, which was written in a dramatic and intriguing style that kept the reader in suspense.
He noted that the right to health indicators focused on five crucial areas, including sexual and reproductive health, child mortality and healthcare, the natural and work environment, preventing, treating and controlling diseases, as well as access to health facilities and necessary medicines.
Buratai, who is Nigeria's Ambassador to the Republic of Benin, praised 'NADAMA' for addressing all these areas in a unique and innovative way.
READ ALSO: Senate President: Rufai Urges Yari To Step Down For Akpabio
Earlier, the Chief Medical Director, Maiduguri Teaching Hospital, Prof. Ahmed Ahidjo, noted that the cost of managing cancer was very expensive, adding that prevention is the best approach.
He praised the book for providing education and enlightenment, hoping that it will help reduce the prevalence of cervical cancer in northern Nigeria.
Ahidjo recalled that President Muhammadu Buhari recently inaugurated a modern cancer centre in Maiduguri to serve the most vulnerable and hard to reach communities in the North East region.
He noted that before the centre was constructed, there was no radiotherapy facility for the treatment of cancer in the region, which has a population of over 30 million people.
He expressed gratitude to the Federal Government for the investment, and hoped that it would solve the healthcare problems in the region.
Ahidjo, who advised that the book should be read carefully as an educational material, suggested that it should be kept in schools, universities, libraries and hospitals across the country.
According to him, healthcare providers have much to benefit from it.
On his part, the former Chairman of NAHCON, Malam Abdullahi Mukhtar, also lauded the commitment of the author in contributing to finding solution to one of the medical challenges of women inspite of her official and domestic tight schedules.
Mukhtar urged the guests, NGOs and and philanthropists to support and encourage writer to enable her provide more services to the society.
Malam Muhammad Tola, the representative of Independent Hajj Reporters (IHR), a civil society organisation promoting quality Hajj and Umrah services, camvassed for the translation of 'NADAMA' into other languages to facilate understanding of the message.
Tola therefore challenged the author, Kaduna State University and willing sponsors to help translate and act the book into English, Igbo and Yoruba languages for global acceptability.
In his remark, the Chairman of NAHCON, Alhaji Zikrullah Hassan, praised the book, saying it captures how cervical cancer can be eliminated as a public health problem.
Hassan, who described 'NADAMA' as a drama that educates and informs, commended the author for her initiative in writing such a book.
On her part, the author (Usara) expressed optimism that the book would help protect women from the painful death of cervical cancer and encouraged other women to join her in the fight against cervical cancer.
She expressed gratitude to those who attended the event and acknowledged the late Dr. Mardiya Zayyan for encouraging her to write the book and attributed it to her as a charity for imparting knowledge on her. (NAN)