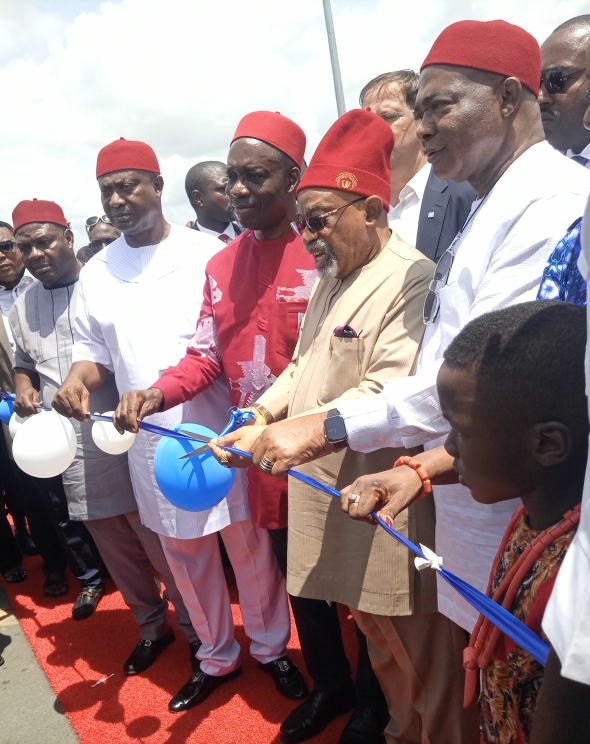 President Muhammadu Buhari, on Tuesday inaugurated the second Niger bridge named after him, the bridge linking Asaba and Onitsha in Delta and Anambra.
Buhari, who performed the inauguration via zoom said that the bridge would improve economic activities of the areas.
According to him, the projects handed over on Tuesday symbolised the country's sharp focus on delivering prosperity.
Buhari said said: "The second Niger bridge will facilitate transport connectivity within the region.
"Those crossing the Niger bridge will no longer experience gridlock as it will help to improve socioeconomic activities of the southeast.
"In eight years, I am proud to say that we have developed Nigeria's infrastructure to GDP from about 20 per cent to over 40 per cent and that is not small underaking."
The president, however, said he was not consulted before the second Niger bridge was named after him.
In his remarks, Gov. Ifeanyi Okowa of Delta said that the bridge would help boost the nation's economy and in the ease of doing business between the two states.
READ ALSO: Makinde Sacks Political Appointees, Dissolves Cabinet
Okowa, represented by his Chief of Staff, Mr. Ovie Agas, said that the bridge would also create jobs and enhance economic growth within the states.
Also in his contributions, Gov. Charles Soludo of Anambra, commended Buhari for keeping to his campaign promises of completing and delivering the bridge to the people of South East.
Soludo said: "I am personally over-joyed; today is a day of joy, we've come to express our gratitude, history is being made today.
"The people of South East have agitated and we've complained about five key infrastructural projects.
"These five key projects are supposed to be game changers to the economy of the South Eeast, one of these projects is the dredging of the River Niger.
"The next happens to be the second Niger bridge, the third is the expressway that will lead from here directly to Lokoja, the fourth is the gas pipe line, while the fifth obviously is the railway line.
"Of these five, it is our pleasure that we have come to tick good to one of them and a major one at that, and that is the second Niger bridge," he said.
Earlier, the Managing Director of Julius Berger, Dr. Lars Richter, said that it was an honour for them to be part of the success story of delivering the bridge to the people of Delta and Anambra. (NAN)