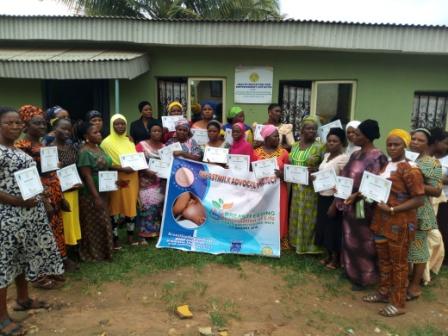 As a part of its efforts to promote increased breast feeding, a non-governmental organisation, Health Education and Empowerment Initiative (HEDEN), has embarked on Breastmilk Advocacy Project.
This include the advocacy for an improvement of work place policies to make breast-feeding easy for mothers, improved communication and co-ordination among the health systems and integrating breastfeeding into weekly post and antenatal talks at community health centres.
The Executive Director of HEDEN, Mrs. Folasade Ofurune, made this known in a statement made available to The Next Edition.
She said in carrying out the advocacy, the organisation visited some necessary health facilities and local government area where the campaigns were carried out.
According to her, among other places, HEDEN visited Ifo local government in Ogun State, South West of Nigeria.
She said at the local government area, the need to improve the policies of the government at that level was emphasized.
HEDEN, she said, called for the provision of breastfeeding facilities to encourage nursing mothers.
In observing the World Breastfeeding Week, HEDEN, with its Breastmilk Advocate Project, carried out town hall meetings with community members; talks at three  community health centres for nursing and pregnant women; distribution of IEC materials on breast-feeding and demonstration of weaning foods, using local home-grown foodstuff to overcome the challenge of weaning.
READ ALSO: Apathy For Breastfeeding Responsible For Social Ills- Ogundinmu
No fewer than 25 traditional birth attendants and 20 nurses participated in the seminar organised.
At the seminar, videos were shown teaching the participants how to breast-feed so that mothers can provide better guidance on how to position and attach their baby as well as manage common problems.
Mothers also discussed and shared their experiences and challenges as they relate to breastfeeding.
The seminar also featured a questions and answer session.
The programme also highlighted ten steps to successful healthy breastfeeding by UNICEF and WHO.
Mrs. Ofurune featured on Sweet FM 107.1 programme to discuss the benefits of breastfeeding among other things too.