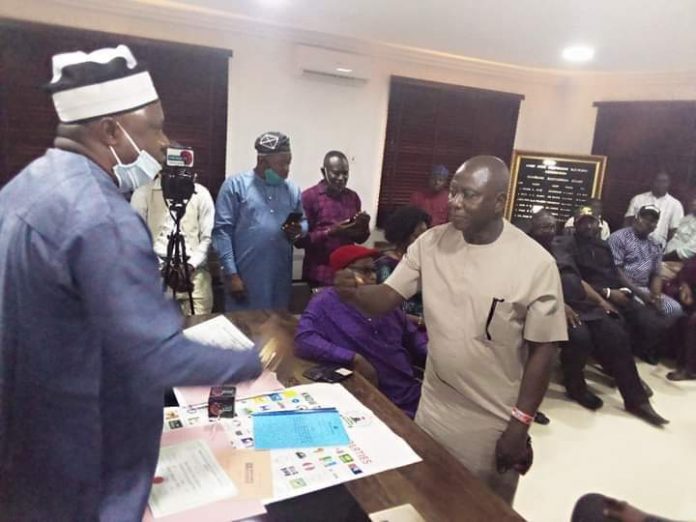 Benue State Independent Electoral Commission has issued certificate of return to the newly elected chairmen and councilors in the state following the local government election which took place on Saturday, May 30.
The Executive Chairman of the Commission, Mr.Tersoo Loko, who issued the certificates at state headquarters of the Commission, admonished the newly elected to see themselves as servant leaders vested with the responsibility of helping to alleviate the suffering of their people by providing simple basic amenities.
Meanwhile, some of the newly elected chairmen who spoke to newsmen have pledged total commitment to the development of the rural areas.
Mr. Steve Ayua of Ukum local government and Mr. Clement Onah of Ado assured that they would embark on massive rural development and help to revamp the socioeconomic fortunes of their people.
READ ALSO: Benue LG Election: Most PDP Candidates Unopposed… Ortom
Also speaking, the Chairman-elect of Agatu Local Government Council, Mr. Sule Adoyi flanked by his deputy, Mr. John Ikwulono described the day as glorious and memorable.
"We are eternally grateful to God Almighty for bringing this day to a reality. We sincerely appreciate the Governor, Samuel Ortom, his Deputy, Benson Abounu, the Political Leader of Agatu and the State Chairman of PDP Benue State, Mr. John Ngbede as well as the good people of Agatu for finding us worthy to serve in these regards."
They further solicited for support and cooperation from the Benue people to enable them succeed.
The newly elected chairmen are expected to be inaugurated by the Governor in the coming days.