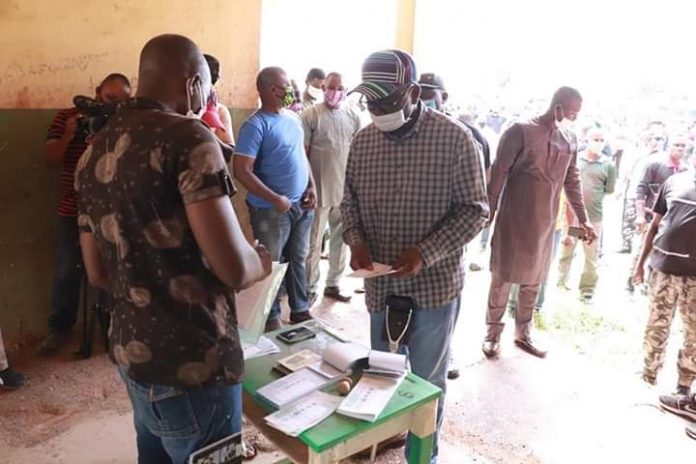 Benue State Governor Samuel Ortom has expressed the confidence that the Peoples Democratic Party (PDP) will win overwhelmingly in the ongoing local government Elections holding in the 23 council's of the state.
Ortom stated this on Saturday in Gbajimba, the headquarters of Guma Local Government Area of the State while speaking to newsmen minutes after casting his vote.
He said he was sure of that because in most of the local governments, the candidates of the PDP were unopposed.
"They do not have any opposition. The All Progressives Congress (APC) did not show any commitment to the election.
"They did not pay the required fees. They went to court demanding that the election should be put off but they lost the case.
"The Court ruled that the election must hold. It would have been conducted before now as earlier scheduled but due to Covid-19 it was shifted to today," he said.
The Governor, who expressed happiness on the level of turnout therefore advised the electorates to vote and leave the polling units as a measure to guide against Covid-19.
READ ALSO: Benue LG Election: Police Deploy 5,200 Personnel, As APC Shuns Polls
"We have advised people not to come at once so that the polling units will not be over crowded. Covid-19 has come to stay with us. So, adhere to guidelines, vote and leave the venue and allow room for other electorates to also come and exercise their franchise.
"The Benue State Independent Electoral Commission (BSIEC) has directed that in order to guard against the spread of Covid-19 only 30 electorate will be allowed at the polling units at a time.
"So, if you vote, you have to leave to allow others to come and vote.
Asked if the outcome of this Saturday's Elections will be a dress rehearsal for the 2023 election, Ortom said, "I believe in today. Tommorow is in the hands of God. Let me fight for today and when tomorrow comes, we will handle it."
The Chairmanship candidate of PDP in Guma, Mr. Caleb Mgirimga and the Executive Secretary of State Teaching Service Board, TSB, Mr. Frank Kyungun said they were impressed with the conduct of the elections and called their their party supporters to vote peacefully and be mindful of government rules on Covid-19 as they cast their votes.
Meanwhile, our correspondent observed that there were fairly large turnout of voters at the polling units.
It was observed that while the election officials were getting ready to conduct the polls, most villagers went to attend to their farm work before heading to the polling units.