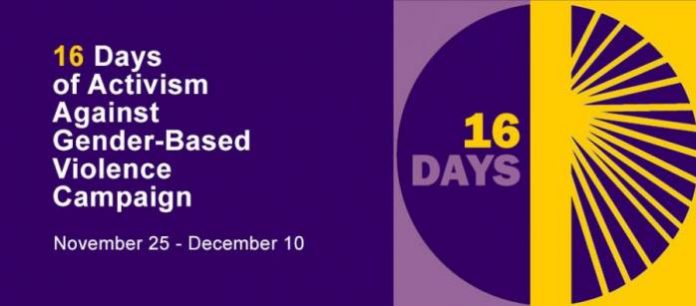 The Akwa Ibom State Commissioner for Agriculture and Women Affairs, Dr. Glory Edet has disclosed that the Women Affairs Ministry will be participating in this year's 16 Days of Activism against Gender Based Violence.
Dr. Edet, who made the disclosure while briefing newsmen on Monday, noted that the global event which kicked off on Monday, November 25, will run till Tuesday, December 10, 2019.
"The UN General Assembly on the 17th December, 1999, designated November 25 as the International Day for the Elimination of Violence Against Women. The 16 Days of Activism against Gender Based Violence kicks off on this day and runs until the 10th of December every year which is the Human Rights Day.
"This year, in support of these activities, the United Nations Secretary General, Antonio Guterres has called for global actions to increase awareness, galvanize advocacy efforts and share knowledge and innovations. The intent is to end violence against women by 2030," she said.
Edet noted that the theme of this year's event, "Orange the World: Generational Equality Stands Against Rape", is necessitated by the high rate of rape cases reported all over the world which affects all categories and ages of women and children.
She noted further: "According to the United Nations Statistics on women, 35 percent of women worldwide have experienced physical and or sexual violence in their life-time, while 11 percent of African women have experienced physical and sexual violence by an intimate partner.
"The Akwa Ibom State Government through the Ministry of Agriculture and Women Affairs, notes the reported cases of rape, defilement and violence and the numerous incidents which go unreported for reasons such as stigmatization of survivors, threats, the culture of silence, shame, intimidation etc".
READ ALSO: FIDA Nigeria, Others Begin 16 Days Campaign to Eliminate Gender-Based Violence
Disclosing the efforts of the Ministry in curbing the menace, Dr. Edet said that, in partnership with the United Nations Population Fund (UNFPA), the Ministry has established the Gender Based Violence Response Unit, where cases of violence and other vices are reported with prompt actions taken in response.
"We have done series of sensitization against Gender Based Violence. Since October 4, 2018 when the Unit was established, we have received over 180 cases and have successfully prosecuted over 18 culprits especially cases of defilement and rape.
"The Ministry deals with culprits of rape, defilement accordingly. They are not spared irrespective of status. It is worthy of note, that the Ministry had between September, 2018 to November, 2019, undertaken various activities with a view of mitigating violence against women and children in the state".
The Commissioner listed activities by the Ministry to include, empowerment of Vesico Vagina Festula, VVF, and Recto-Vagina Festula, RVF survivors, convening of stakeholders' consultative meetings on Gender Based Violence, prevention and response and data management, organizing of capacity building workshop for social welfare officers as Counsellors on Sexual Gender Based Violence, SGBV, and many others.
Speaking on the activities to mark the 16 days of activism, she said; "the Ministry will carry out a capacity building programme for key stakeholders, community influncers, faith based organizations and other groups on the ills of gender based violence and the need for passage of the Violence Against Persons (Prohibition) law in Akwa Ibom State.
"Also, we are planning to carry out sensitization programmes in Secondary Schools to fight Gender Based Violence. The Ministry is equally making plans to empower the widows and celebrate the International Day for Disabled Persons, among other programmes".
She therefore called on all good meaning individuals, stakeholders, other government agencies and groups to join the Ministry in speaking out and taking practical, effective and proactive steps to eliminate all forms of gender based violence in the state.