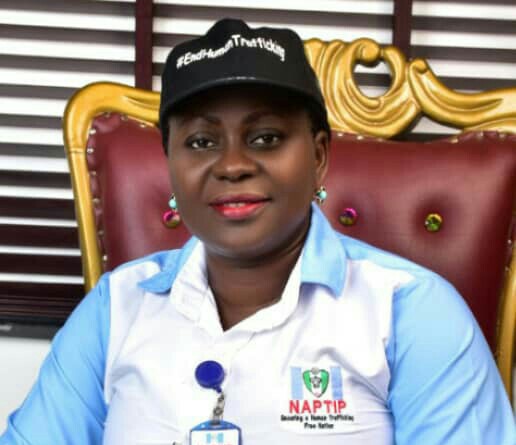 Mrs Gloria Iverem Bai who is the Makurdi Zonal Commander of National Agency for the Prohibition of Trafficking In Persons (NAPTIP), is an absolute delight to listen to anytime. She speaks with so much passion on issues concerning children. In an interview with the Correspondent of The Next Edition, DOOSHIMA HIR, Mrs Bai warns people who are in the habit of hiring underage children as domestic staff to desist or prepare to face the law.
TNE: There are noticeable increases in cases of child labour across the country. What is the case in Benue?
Just like you mentioned, there are cases of child labour everywhere in the country and Benue state is not an exception. When you go to the street, you will see lot children on the street selling there, you see a lot of children selling in bars, you see a lot of children being used as domestic servants or what they call house helps and these are mostly under aged children. It is something NAPTIP has been fighting; the use of children below the age of 18 for a certain jobs that are not really for that age. So Benue state has cases of increase in child labour and not just internally, we also have people that are recruiting and sending out of the state for house helps. In fact, we call it domestic servitude because the condition that these children are and the treatment that is meted out to them when they are in homes is not good. Again these cannot be properly monitored because you are not there and don't know what happens to the children in those homes. But I tell you that most children are going through serious abuse in these homes they have been taken to.
TNE: What is responsible for the increase in child labour in Benue state?
I will say the economic situation which has been worsened by the insecurity that Benue state has gone through for the past six years now; the Herders and farmers crises which have made the people's livelihood to be taken away from them. If you don't have a livelihood as a parent, you are bound to have your children, may be, out of school or you are out of job and don't have anything to look after your children, it leaves the children very susceptible to being out there to fend for themselves. Some parents at this point even willingly give their children out to fend for themselves or look for money and bring back to the home because their own means of livelihood has taken away from them. So the insecurity in the state is fuelling the increase in child labour which is why I keep saying that there is need for all of the government to come together, we are all citizens of Nigeria, and find a way to assist Benue state with the security situation in the state. We need to nip it in the bud because it is actually fuelling the crisis where you have children out of school, you have people not having anything to do so they can't even cater for their children.
Then the situation again got worsened with the COVID-19. The pandemic has actually affected the whole world not only the state. So, insecurity and the pandemic coupled with the economic breakdown of the state have really contributed. The state has spent a lot of resources trying to provide security for the people
TNE: In your estimate, how many children have been trafficked for labour and how many have been rescued in the recent past?
Internally, there are cases of children that have been reported to have been taken from the rural areas to come and work in the towns especially in Makurdi. We have rescued some maltreatment, abuse and have taken them back. We have also been able to rescue some from out of the state who were trafficked out of the country. So, from November 2020 when I came to the end of June 2021, we have rescued 124 children from child labour and 120 are indigenes of Benue state.
TNE: How many offenders have been arrested and how many have been prosecuted?
We call it reported cases. So most times, when you report a case to the command, we record it as a reported case and what we do is from 2013 till date, we have had about 500 reported cases. In a breakdown, we have 233 for child labour and 144 for labour exploitation and 98 for sexual exploitation bringing them to over 400 reported cases so far from 2013 when the Makurdi Zonal Command was set up. Then we have 8 cases that are still in court and most of the cases were charged to court and we got a number of convictions.
TNE: Has NAPTIP been monitoring what is happening at the various IDP camps across the state? What are your findings?
Yes, NAPTIP has been doing a lot. We have even strengthened our collaboration with Benue State Emergency Management Agency (BENSEMA) so that we can be in the Internally Displaced Persons, IDP, camps. What NAPTIP has been doing is that we have been going to the camps to sensitize them about human trafficking and the indicators of human trafficking. As you know, human trafficking is clandestine in nature and most of them come with sweet promises, already they are in a bad condition, so they make them believe they have a better plan for them or something that can bring them out of such situations. For us, we know that most of the people going there take advantage of the fact that these people are already vulnerable so they take advantage of their situation to traffick them. We have gone to a lot of IDP camps and we also went to the refugee camp in Kwande several times to sensitize them that if someone comes to them with such good messages or messages of giving them jobs outside the camp, they should be weary because most of them are trying to take advantage of their vulnerability. So, when we sensitize them, we work with the camp officials. We also sensitize the camp officials so that they know how to handle the cases. We had one case in Daudu and because the camp officials didn't know, the traffickers used one of them to lure the children to take them to Ilorin for sexual exploitation but we thank God that was a success story because it didn't happen. The girls rejected the offer and ran away. In this case, they were told they were going to give them jobs and after we found out, we saw the need to go round and sensitize them the more about human trafficking and that if they come with such messages they should know that they are human traffickers. We also told the officials to verify with NAPTIP before they can give the children out. We are also working with the Women Affairs ministry to intensify the issue of proper adoption because some people come in the guise that they want to adopt the children and take them to live with them in their homes. But when we see things like that, there are indices of child trafficking so you watch closely to know. There must be proper way of adoption so that these families are checked before the children are given out to them. We got information that people go to IDP camps to adopt children. It is not just enough to hear that and give out a child to someone. We are working with the women affairs to ensure that it is done properly. The Ministry also go to the camps to train them on skills acquisition. We are also working with State Emergency Management Agency (SEMA) where we have also sensitized them to look out for such people with such messages at the camps.
TNE: What are the latest techniques used by traffickers to lure unsuspecting victims?
From the definition of trafficking, it is done through the means of threat or use of force or coercion, or abduction, or fraud or deception or abuse of power. When someone is in a position of vulnerability and you think that there is nothing they can do, someone can make them do what they do not want to do. If these elements are there, using my power or position to be able to traffick you, to convince you into doing what you don't want to do, I can use deception, I can use abduction, I can forcefully take you and move you to another place. Some people already know that they are in a position of vulnerability and someone keeps threatening them that if you don't do this, this will happen to you. That makes some people to do what they would not do ordinarily.
We have a case now about a woman who has young children who are selling for her in her beer palour. They work over night and most times, they are tired because they are children. That is what we are talking about position of power. They are vulnerable, they don't even have parents and all they hear is if you don't sell, I won't give you food. There is threat there. Or you will leave my house if you don't do this. When it comes to sexual exploitation, those who are prostituting others tell them if you don't, this will happen to you. The girl will be forced to go and do it.
READ ALSO: APC Uncovers Plot To Truncate Planned Party Congress in Rivers State
TNE: Besides sensitization, what else is NAPTIP doing to nip the menace in the bud?
For NAPTIP, we believe that we are a one-stop agency where we rescue the victims and then arrest the suspects and prosecute them and like I said before, we have had successful convictions. We have had about 43 convictions in this zone alone out of the 117 cases we have charged to court and we still have 8 cases in court and as we are talking some are still been charged to court. In fact, we are still drafting charges. For NAPTIP, that aspect of arrest and prosecute, when people know that we can arrest and prosecute, it deters people from committing the crimes. Sometimes, people don't even know how much powers NAPTIP has until they fall into our hands. Here, we don't take chances, once a case is reported, we move in to arrest and you are given a bail term, if you meet it fine, if not we charge the case to court, follow up and see if we can get convictions. We believe that once people are punished for their crime, it will serve as a deterrent to others.
TNE: In what ways can the society help your office to end child labour in the state?
When it is child labour, a lot of us are committing this crime and we are trying to sensitize the public that whatever you cannot do to your child, don't do it to another person's child. Again, I don't see the rationale of somebody employing the services of a six year, nine year old as a nanny. There was a nine year old girl that is being physically abused by a lady that went viral, one in Makurdi, another in Gboko Local Government Area and I asked, would you do that to your own child that is nine years? This lady in the video was beating this girl to carry her baby, punishing her to carry blocks on her head and all that and this girl was in the rain. And a lot of other women would pick a 12-year old in the guise that they want a little girl that would grow up with their child. You don't take a nanny that is small. Somebody that can't even look after herself would she look after your child and any little mistake she does, you pour your whole anger on her and beat her to a pulp. We are looking at also sensitizing the populace that this is a crime and they need not do it. It is not right.
Again, if you see something, you say something. Makurdi Command has been in the forefront of responding once someone reports. In fact, the time limit of our response is 48 hours, this is because we want to carry out some intelligence before we respond. But if you give us the report, in less than 48 hours we respond. We don't discuss our informants and because of that people have confidence to call us. Most of the reports we have are from neighbours.
TNE: What is the punishment for offenders?
Under our act, section 23 said "anybody that employs, recruits, acquires, transport, receives or hires a child under the age of 12 years as a domestic servant commits an offence and is liable to conviction and imprisonment of at least not less than 6 months but not exceeding seven years. Then if you now inflict injury on the child, you will be imprisoned for a minimum of two years not exceeding seven years. That is for child labour.
For trafficking cases generally, we have not less than seven years and a fine not less than N1million not an option of fine.
TNE: What is your charge to the Benue public?
I will say that ignorance is not an excuse and that is why NAPTIP is trying at every forum to sensitize people at every opportunity so that people won't say they didn't know. I would say that it is better the public should know that there is a law that protects these children and if you are caught up with the law, you will face the music. It is better not to be there. We have very educated people who are employing the services of very young children and the act says you cannot employ anybody under the age of 12. And between the age of 12 and 18, they are still children and for children, consent is not admissible because a child cannot consent to doing any job.